Do-it-yourselfers doing a little research on tile and stone installation likely come across cement board underlayment. Cement board is DIY- and professional-preferred for good reason. Not only does it provide a structurally sound, moisture-proof tile-setting surface, cement board is a miracle of DIY tile installation because it negates the manually laborious wall and floor substrate floating process.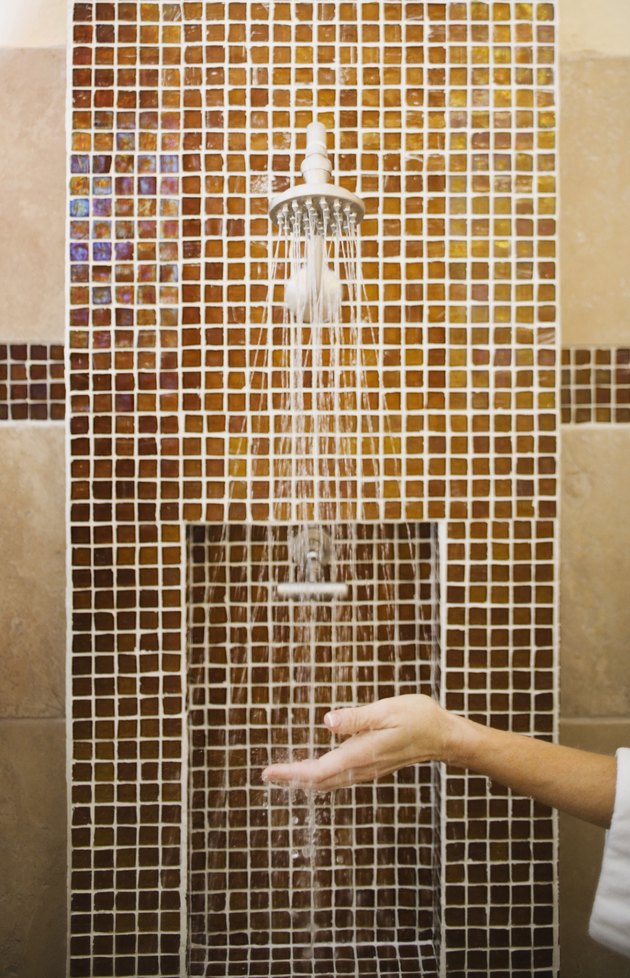 Cement board manufacturers imprint a gridlike pattern on one surface of the board. In addition to giving the do-it-yourselfer proper-spaced nail or screw placing, the pattern indicates the front of the board. Also, cement board typically has a label or manufacturer sticker on the front of the board. The back of cement board is plain, has no manufacturer-defining stickers and is void of the front-featured grid. Always install cement board with the grid facing out.
Cement board must be at least 1/2 inch thick for wall installation and 1/4-inch cement board is appropriate if 5/8-inch-thick sheathing is present. Manufacturers recommend installing a moisture barrier first -- either heavy-felt construction paper or 4-mil plastic -- locking out water and preventing future moisture issues in wet areas. Affix 1/2-inch cement board to wall studs every 8 inches with either 1 1/2-inch galvanized roofing nails or 1 1/4-inch cement board screws. Also, fasten the cement board at joints and corners.
The do-it-yourselfer has more flexibility installing plywood floor cement board -- the thinner, easier-to-cut 1/4-inch board is appropriate. Plywood floor underlayment must be 5/8 inch and 3/4 inch if installing a large modular tile -- 12 inches or greater. Avoid lining up cement board joints with plywood joints. Apply a polymer-modified thin-set mortar to the underlayment before installing the board. Attach the cement board throughout the board with 1 1/4-inch cement board screws or 1 1/2-inch galvanized roofing nails. Attach it every four to six inches.
Cement board contains hazardous materials. Always wear proper eye and breathing protection -- especially while cutting the material. A plumb and level wall and floor underlayment is absolutely required for a quality cement board application. Adjoin cement board sheets with a thin-set mortar-installed mesh tape. Stagger cement board joints to ensure a strong tile-setting surface.