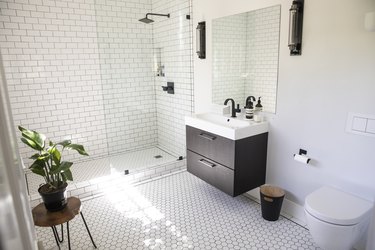 Plastic laminate sheets make for durable, water-resistant wall coverings that can emulate the look of any surface. Because of this, they're used often in moisture rich areas, even on shower walls, as an inexpensive, quickly applied building material. Over time, however, you may wish to change the look of the walls as part of your bathroom remodeling project. To make this change, you can either remove the laminate or paint the material.
Removing the panels requires that you break the bond between the plastic and the walls with a bit of solvent. Painting the laminate can take a little more work because of the preparation of the panels beforehand. Either choice can provide you with the change in appearance you desire, giving your walls the new look you desire.
Removing Plastic Laminate
Step 1: Use a Putty Knife
Slip the edge of a putty knife beneath a corner of the laminate panel and move the knife beneath the edge of the panel to create a small gap between the panel and the wall. Remove the panel by gently prying it away from the wall, but if the panel is securely glued and the panel cannot be easily pried away, don't force it and damage your walls. Instead, use an adhesive remover to dissolve the adhesive.
Step 2: Dissolve Adhesive With Acetone
Fill a spray bottle with acetone or use an aerosol adhesive remover. Slide a wide paint scraper into the gap, and then wedge the laminate up slightly to widen it. Spray the acetone into the gap so that it soaks under the laminate into the contact cement binding the laminate to the wall. Wait one minute for the acetone to dissolve the cement slightly.
Step 3: Cut Through the Softened Adhesive
Move the scraper beneath the laminate, cutting through the acetone softened cement to separate the laminate from the wall. Spray more acetone beneath the laminate whenever you reach unaffected contact cement on the wall. Work from the outside of the panel inward until you fully separate the laminate from the wall, and then pull the laminate away.
Step 4: Remove Adhesive From Walls
Remove the contact cement still on the wall by spraying the acetone directly on to the cement and scraping it away with the paint scraper after a minute. Wait for the wall to dry and then sand the surface with a hand-held sander with medium-grit sandpaper attached.
Painting Plastic Laminate