Things You'll Need
Tape measure

Sledgehammer

Pencil or chalk

Sawzall

Electric saw

Electric drill

Lumber

Wood screws

Caulk

Caulk gun
Warning
Make sure that you don't have gas lines or other important connections running under the floor beneath your tub before starting.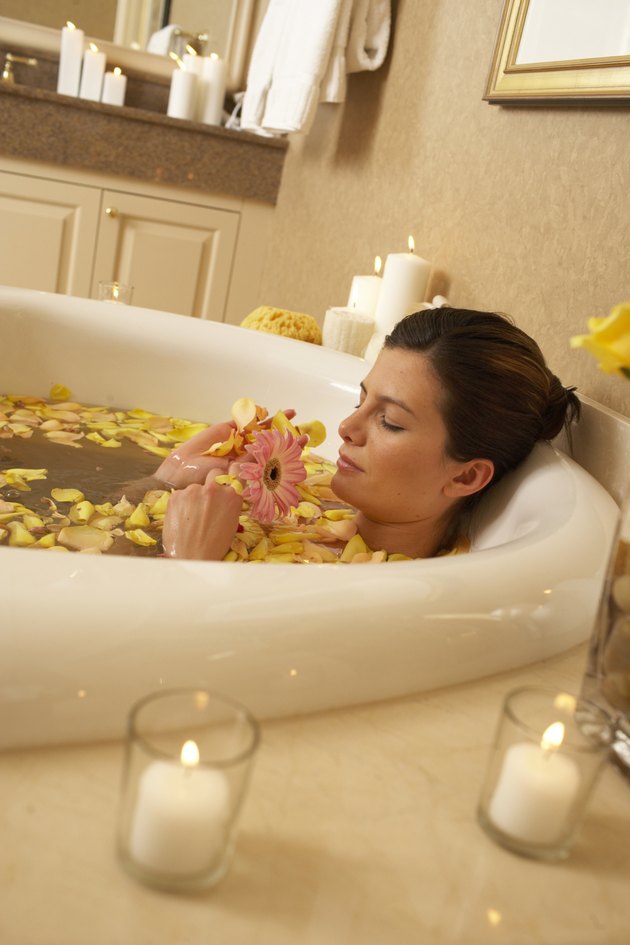 Sunken bathtubs allow you to sit below floor level as you luxuriate in your bath. If the builders didn't include a sunken bathtub in your original floor plan, building one and installing it will require significant alterations to your bathroom, because you will need to open up the floor to make room for your new tub.
Step 1
Use the tape measure to find the measurements for your bathroom. Use these dimensions when considering the size of your sunken bathtub, particularly if there are load-bearing walls that will affect the tub's placement.
Step 2
Take out everything that is where you want the tub to rest, including cabinetry, an existing tub, toilet or other objects. Also remove any plumbing connecting to those items that would be in the way of your tub — after you have turned off the water, either to the house or just to the bathroom.
Step 3
Pull up any flooring materials covering the space where you want the tub to rest, then use the chalk or pencil to mark where you want the sunken tub to rest.
Step 4
Cut a hole in the wood flooring with your sawzall to accommodate the sunken bathtub.
Step 5
Construct a wooden frame for your sunken bathtub. Cut it to fit inside the hole in the floor, if the joists beneath are the right height to support it, or if ground level will support the frame at the right level. Use six to eight beams on the longer sides of the tub, and two to four beams along the shorter sides of the tub. Connect these beams by nailing plywood boards between them. Use the pencil to show where piping will need to go into the frame.
Step 6
Place the tub in the frame. Use a level to determine whether or not the tub is sitting evenly in the frame. Cut holes for the plumbing in the plywood with your sawzall. Run pipes through your cuts into the tub to make sure they are in the right place. Then remove the pipes and the tub.
Step 7
Set the frame into place. Put the tub into the frame, making sure the lip of the tub meets the flooring, and connect the plumbing. Install any new fixtures. Caulk the lines where the tub meets the flooring around it.
---
Leslie Renico's grant-writing career began in 2006 and her grants have brought in millions of dollars for nonprofits serving the poor and providing medical care for the needy. Renico has appeared on television and her articles have appeared in various online publications. She graduated from Saginaw Valley State University with a Bachelor of Arts in criminal justice in 1997.