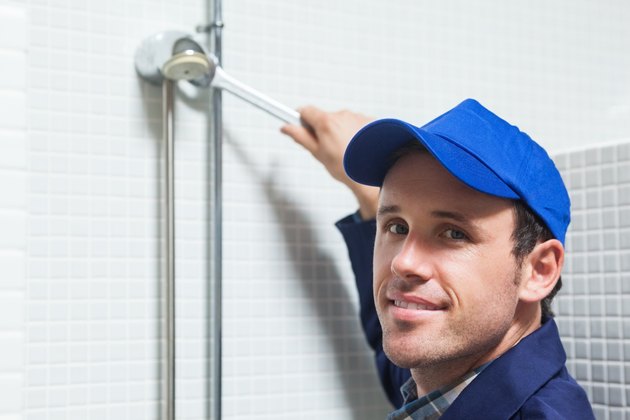 A shower that you have to bend beneath just to get your hair wet can be plenty frustrating. Shower valve and spout height is a matter of personal preference when you're building or retrofitting. Place the controls so that all users can easily access them. Standard height for the shower valve -- the handle that turns the shower on -- can be roughly waist high, 36 inches above the shower floor, or as high as 48 inches.
Showerhead Height
The showerhead height should be on the wall just above the head of the tallest user in the household. Industry standards place the showerhead at an average of 80 inches high, or 6 feet, 8 inches, but it can be higher or lower based on your preference. Diverter controls, when not on the tub spout, should be set just above the controls that turn on the water. This applies to both showers and shower-tub combinations.
---

Laurie Brenner
As a native Californian, artist, journalist and published author, Laurie Brenner began writing professionally in 1975. She has written for newspapers, magazines, online publications and sites. Brenner graduated from San Diego's Coleman College.