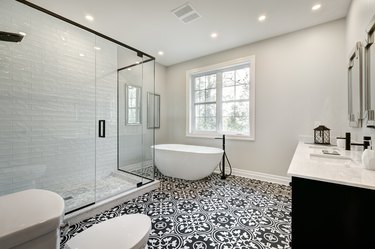 Renovating a bathroom can be a great way to refresh a house and increase the home's value. It can also be a very complicated and extensive job to renovate everything from the ground up. Luckily, there are options available for homeowners who are limited by time or finances that provide reasonable quality and an easier solution. For example, there's a relatively big market for tubs and showers that are custom made to fit over the existing bath or shower.
Shower and Bath Fitter Benefits
The benefits of fitting a shower or tub over the existing model are multifold. Using this method allows a fresh new surface for the bath space without requiring the removal of the old model. Complete removal of the existing tub can be a costly job on its own, let alone the cost of installation for a new shower or tub.
These liners are usually made from acrylics, but they can be shaped from plastics as well (normally PVC). Liners are custom made based on the dimensions of the existing tub or shower and fit directly over the old model. There are some standard model liners available at hardware stores for the most common shapes and sizes of tubs and showers that can be installed by a handy homeowner, but in most cases, a custom-made liner will be a better fit and have a more professional look.
Working With a Technician
Companies such as BathFitter, Re-Bath and even The Home Depot offer options for bathroom liners. The process normally begins with a home consultation where an expert comes to take a look at the tub or shower in question and makes recommendations. During the consultation, the technician will also take measurements of the existing base so they can customize the liner for a perfect fit. They'll also help with the choice of materials and color to best fit the bathroom and its needs.
Once the technician has the required dimensions and an agreement has been made, these companies then create the new liner in their factories. Even though each one is custom made to fit, these companies are incredibly experienced in making these products.
Once the liner has been shaped, a qualified technician will come to install the liner over the existing bath. This involves brushing a sealant (like a silicone caulk product) over the existing model and pressing the liner into place. The technician team will know how to install the new liner and offer directions on how long the sealant takes to dry before the bath can be used.
Custom work is usually expensive, but in most cases, a liner is more affordable than a full replacement. As of 2020, a bathtub liner can cost between $800 and $1,000 installed, according to This Old House, and a liner that includes both tub and walls can cost around $2,000 for materials and installation, according to HomeGuide. In addition, the liner process is faster, and the installation is usually ready to use within a matter of days.
Compare this to the cost of replacing a full bathtub or shower enclosure, which can run between $3,000, on average, and $10,000 at the high end in 2020, according to HomeAdvisor — this can be as high as the average cost of a full bathroom remodel, which is $10,462. A full bathtub replacement involves removal of the existing model, renovation around the space, installation of the new shower or bath, and time for caulk and sealant to dry.
There's additional value to be had in the minimal downtime and ease of installation of a bathtub or shower liner.