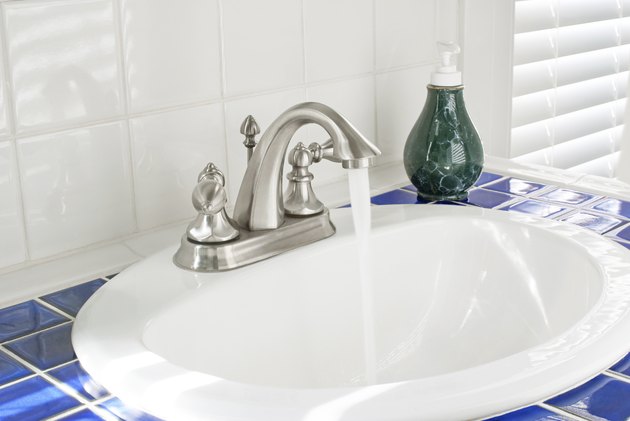 Although most bathroom sink drain holes are similar in size to coordinate with the drains and plumbing used with the sinks themselves, there is no single standard size for them. The most common size of the drainage hole in a bathroom sink is 1 1/4 inches in diameter, although you may also find some with a diameter of 1 1/2 inches or more.
It's the Size that Matters
The drainage hole in a bathroom sink must be at least 1 1/4 inches in diameter, according to the International Code Council. The hole must also coordinate with the typical size of a bathroom sink drain, which is 1 1/4 inches in diameter, according to the Lincoln County, Oregon, website. While this is the most common size, you might also find drains that are 1 1/2 or 1 5/8 inches in diameter, states the Bathroom Vessel Sinks website. To fit properly, the diameter of the drain must be the same size as or smaller than the diameter of the drainage hole, and the drain's flange must be wide enough to cover the hole. For this reason, you won't normally find bathroom sink drainage holes larger than 1 3/4 inches in diameter.
Not All Regulations are Created Equal
Most municipalities follow the guidelines of the ICC and recommend a bathroom sink drain hole size of 1 1/4 inches in diameter. Some, such as Richfield, Minnesota, recommend using a drain that's 1 1/2 inches in diameter, requiring a drainage hole of at least the same size. Check your local building codes regarding plumbing regulations before purchasing your sink.
---

Susan Paretts
Based in Las Vegas, Susan Paretts has been writing since 1998. She writes about many subjects including pets, finances, crafts, food, home improvement, shopping and going green. Her articles, short stories and reviews have appeared on City National Bank's website and on The Noseprint. Paretts holds a Master of Professional Writing from the University of Southern California.