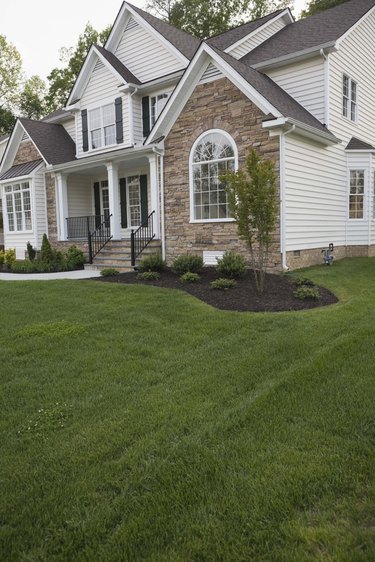 Briggs & Stratton, a manufacturer of small engines, acquired the Simplicity brand with the intent of doing business in the lawn care market. Despite bearing the prestigious Briggs & Stratton name, Simplicity machinery is priced for the economy-end of the cost spectrum. Products such as Simplicity's Field and Brush Mower feature a hydrostatic drive.
History
Hydrostatic transmissions are often referred to as "hydro drives" or simply "hydros." They have been used as part of the drive train of lawn tractors and mowers since the 1970s, particularly by John Deere and by Sears in its Craftsman range. Hydro drives are the most popular drive system in use for lawn care machinery, according to the experts at Today's Mower.
Hydrostatic Drive
Simplicity describes its Field and Brush Mower as having "Fingertip forward/reverse controls (that) allow easy maneuvering in tight spots and quick turns around obstacles." This is made possible through the use of a hydrostatic drive system--similar to an automatic transmission in a car--that does not involve the operator selecting gears or using a clutch as is traditional in ride-on lawn care machinery. Hydro drives work using pumped hydraulic oil in a sealed system.
Oil Type
Always refer to the lawn mower's operator manual before servicing. The experts at MDT Products, which manufactures Yard-Man, Bolens and White lawn-care products among others, note that "Hydro-Gear factory uses 10W-40 motor oil during assembly, but also approves the use of 20W-50 oil when servicing the hydrostatic system." Hydro-Gear manufactures most hydrostatic transmissions used in the U.S.
Exceptions
On its website, John Deere states "Operating outside of the recommended oil air temperature range may cause premature hydrostatic transmission failure." The advisory also notes that extremes of the ambient air temperature in which the mower is used can effect which viscosity of oil should be used. Machinery used below four degrees Fahrenheit and above 122 degrees Fahrenheit should be filled with alternate hydraulic oils. This information is equally applicable to Simplicity products.
---
John Cagney Nash began composing press releases and event reviews for British nightclubs in 1982. His material was first published in the "Eastern Daily Press." Nash's work focuses on American life, travel and the music industry. In 1998 he earned an OxBridge doctorate in philosophy and immediately emigrated to America.