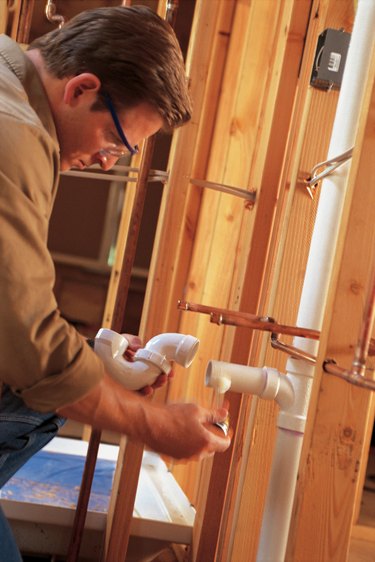 SharkBite is a brand of push-to-fit plumbing fittings that can be used in a wide range of plumbing applications. SharkBite fittings can be used on residential or commercial buildings, and can be used with a variety of materials. SharkBite fittings require no tools to install and require only a basic level of knowledge of plumbing systems.
About Sharkbite
SharkBite fittings come in a variety of shapes and sizes. Some of the types include couplers, 90-degree elbows, valves and caps. SharkBite fittings have durable brass exteriors. Inside the fitting, rubber O-rings create a watertight seal, while an inverted, toothed ring inside the fitting grabs the pipe and holds it in place. With a special tool, SharkBite fittings can be removed and reused if you ever switch out your plumbing.
Sharkbite Uses
SharkBite fittings can be used on both hot and cold water lines. The fittings are durable enough to be installed on plumbing inside walls, and last as long as copper fittings. SharkBite couplers are used to connect long lengths of pipe, while the valves are often installed on irrigation systems. SharkBite can be used on copper, CPVC and PEX pipes, making it one of the most versatile types of fittings available. The fittings also can connect different types of plumbing materials together, making them extremely useful for repair work.
Speciality Hot Water Fittings
While rated for both hot and cold water, some SharkBite fittings are specifically designed to work on hot water system. An example is the SharkBite hot water heater connector. This specialty fitting contains a braided PVC tube with a standard hot water heater threaded nut on one side, and a 1-inch SharkBite compression fitting on the other. This simplifies connecting any type of 1-inch supply pipe to the hot water heater. Other fittings are designed for hot water valves, or hot water faucets.
Installing and Removing Sharkbite Fittings
Once your pipes are cut to size, installing SharkBite fittings requires only the use of your hands. To install a SharkBite fitting, center it over the opening of a pipe and press down. The pipe slides into the fitting about 1/2 inch and then stop. The plastic teeth grip the pipe in place and the O-ring forms a watertight seal. To remove a SharkBite fitting, place a specialized SharkBite removal tool around the base of the fitting and apply pressure with two fingers against the fitting. A plastic seal around the base releases the compression grips, allowing you to pull the pipe out without damaging it.
---
Heath Robert has been a professional writer since 2001. Covering news, politics and local communities, he has worked for daily newspapers across Colorado, including the "Columbine Courier" and the "Colorado Statesman." Robert holds Bachelor of Arts degrees in journalism and political science.