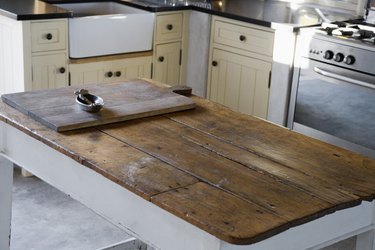 Oil finishes give a soft, natural look to wood but can attract dirt and grease, which can impede a varnish's ability to adhere well. If you choose to apply a coat of varnish to oiled wood, clean the wood well first. Most varnishes are compatible with oil finishes and will give the wood a hard, protective coating.
Differences
Oil finishes, made from natural oils such as linseed or tung oil, have been used for hundreds of years. These products are easy to apply and penetrate the surface of the wood, darkening its natural color and making the grain more obvious. Varnish is a synthetic product made by cooking a finishing oil with a synthetic resin to create a material that dries quickly and to a hard finish. It is more durable than an oil finish but must be removed before refinishing wood. You'll also find varnish/oil combination products. Many home finishers add varnish to an oil finish to improve its durability.
Compatibility
In most cases, you can safely apply varnish over an oiled piece of wood because the varnish contains oil, as well. Water-based varnishes are an exception to this rule. Look for an oil-based varnish, and read the package directions to ensure that it is compatible with an oil finish. Brush a small amount of varnish on an inconspicuous area before applying it to the entire project.
Application
To apply varnish over oiled wood, start with a clean surface. One of the main challenges in applying varnish is that any small particles of dust on the table will cause imperfections in the finished product. A thorough cleaning with a slightly damp cloth is usually all that's necessary, but you can also sand the furniture before applying varnish, if you prefer. Wipe all the sawdust cleanly away with a tack cloth or damp cloth. Apply the varnish in the direction of the grain in quick, short strokes. Brush the surface in the opposite direction to smooth out the varnish. Once the first coat has dried, you can lightly sand it, clean it and apply a second coat.
Alternatives
Danish oil is a mixture of uncooked oil and varnish and functions somewhere in between a penetrating oil and a varnish. It is harder than oil, but lacks the plastic feel of varnish. If you are concerned about using varnish over oil, Danish oil is an effective solution. Oil finishes permanently darken the color of the wood. An application of varnish will make the wood appear shinier depending on the varnish you use, but varnish will not lighten the color of the wood. Other options include painting the table with an oil-based or milk paint. Oil-based paints form a hard surface when cured, while milk paints have a function similar to an oil finish. The milk paint absorbs into the surface, coloring the wood without creating a hard surface.