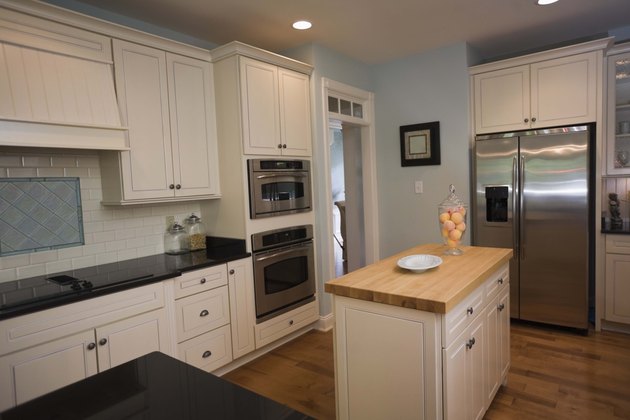 A backsplash protects the wall above a counter from moisture and is easy to keep clean. Even though a backsplash is relatively thin in depth or thickness, it can protrude a little into the counter space. Therefore its depth should be considered before buying backsplash tiles for a renovation project. Other necessary installation items, such as backer board and mortar, should be considered as well since they will add to the overall thickness of the backsplash. With all the elements together, a backsplash is often about 1 inch thick.
Backer Board
Backer board -- also called cement board -- is sometimes needed before installing a backsplash. It is placed directly on the studs or over top of the existing wall. It provides a smooth surface on which to install the backsplash and protects the wall behind from moisture in the tile mortar. Backer board typically adds an extra 1/4 or 1/2 inch to the overall counter backsplash depth if it is installed on top of the wall.
Ceramic Tiles
Ceramic tiles make modern, sleek looking backsplashes. You can also create one-of-a-kind patterns with ceramic tiles. Whether your ceramic tiles are made from glass, porcelain or clay, most backsplash wall tiles are between 3/32 to 1/4 inch thick.
Mortar
When installing ceramic tiles, a 1/2-inch thick layer of mortar is applied to the surface first. This adds depth to your backsplash that is easy to overlook in initial calculations. However, because the tile is pressed lightly into the mortar, you'll lose about one-fourth to one-half of this thickness.
Other Types of Backsplashes
Laminating medium density fiberboard (MDF) is commonly used as a counter backsplash. It is available in varying thickness, typically 3/4 to 1 inch thick. Backsplashes can also be made from metal. Whether it's steel, copper, nickel or brass, metal backsplashes are usually 1/16 inch thick. These can be attached straight to the wall, or backed with MDF for more stability. Since these must be custom made to fit your exact area and around receptacles and other obstacles, metal backsplashes will likely cost you more than other types of backsplashes.
---
Melissa Lewis is a former elementary classroom teacher and media specialist. She has also written for various online publications. Lewis holds a Bachelor of Arts in psychology from the University of Maryland Baltimore County.