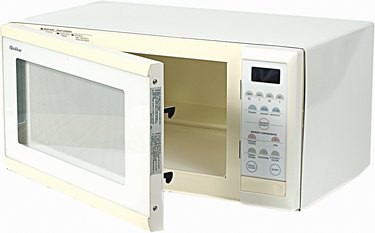 When shopping for a microwave, be aware of the amount of space you have available. The larger the interior size of the microwave, the larger the exterior size. Because microwaves aren't uniform in size, it is necessary to measure the exterior of the microwave cabinet to ensure that the size of microwave you choose fits easily in your allocated space. Interior sizes can range from a half cubic foot to 1 1/2-cubic feet in size, with cabinets sizes ranging anywhere between 19 and 30 inches in length, and varying widths and depths.
Step 1
Measure the depth, or height, of the microwave from the bottom of the microwave's feet to the top of the cabinet. If measuring a display in the store, start your depth measurement from the counter the display sits on to the top of the cabinet, this ensures you get the actual depth, or height, of the microwave.
Step 2
Face the front of the microwave. Place your measuring tape across the top of the microwave from the left side of the cabinet to the right side of the cabinet. This gives you the true length measurement.
Step 3
Inspect the rear of the microwave for any protruding items, such as the power cord or fan housing. These items will affect the width measurement. If the microwave has a handle, take the depth of the handle into consideration when taking the width measurement.
Step 4
Measure the distance from the front of the microwave cabinet to the rear of the cabinet. Measure how far any items protrude from the rear of the microwave and add this measurement to the physical cabinet measurement.
Step 5
Measure how far the microwave handle sticks out from the face of the microwave. Add the handle measurement to the cabinet measurement. The true width of the microwave will include the handle and the protruding items, if any, from the rear of the microwave.
---
Cecilia Harsch has been writing professionally since 2009. She writes mainly home improvement, health and travel articles for various online publications. She has several years of experience in the home-improvement industry, focusing on gardening, and a background in group exercise instruction. Harsch received her Certified Nurses Assistant license in 2004. She attended Tarrant County College and studied English composition.