Things You'll Need
Garbage cans with lids

Airtight containers

Rake

Caulk

Steel wool

Bait stations

Mobile home skirting

Vacuum

All-purpose cleaner

Cloths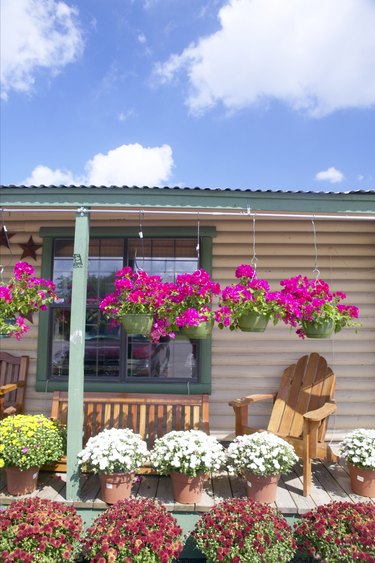 Finding mice in your mobile home is an unsettling discovery. Even if you're not squeamish about their presence, mice carry disease and leave germs and bacteria in their droppings. When you're proactive, you can keep mice out of your mobile home rather than having to deal with getting rid of them. With the use of effective management and prevention methods, you can maintain a rodent-free home and share it only with welcome guests.
Step 1
Store garbage outside in cans with lids. Blocking off easy access to food is vital to preventing mice from inhabiting your mobile home area.
Step 2
Toss out piles of junk or unused items accumulating in your yard. Mobile homes often have limited storage space. Avoid the temptation of keeping things in piles outdoors, as this provides an ideal nesting location for mice. Keep outdoor toys, garden supplies and tool kits inside an airtight container to prevent nesting.
Step 3
Clean up the yard. Rake leaves and small twigs to put out for trash collection. Large piles of organic material accumulating around your yard also make an ideal location for nesting and a warm place to raise babies.
Step 4
Check the caulking outside and inside your mobile home. Apply caulking where needed to seal up crevices and cracks that mice can squeeze through.
Step 5
Push bits of fluffed-up steel wool into holes and openings around cables going into the mobile home.
Step 6
Set up poisonous bait stations underneath your mobile home if you have skirting that opens for storage. Replace any areas of skirting that have holes or cracks mice can go through.
Step 7
Keep the inside of your mobile home clean to avoid attracting mice and other rodents. Vacuum frequently to pick up crumbs and spills. Wash down household surfaces with a diluted mixture of an all-purpose cleaner.
Tip
Consult a professional exterminator if you already have a mouse infestation. Store birdseed and pet food in airtight containers. Mice feed on these items, as well as garbage and human food.
Warning
Position mouse traps or poisonous baits where pets and children cannot access them.
---
Mary Ylisela is a former teacher with a Bachelor of Arts in elementary education and mathematics. She has been a writer since 1996, specializing in business, fitness and education. Prior to teaching, Ylisela worked as a certified fitness instructor and a small-business owner.