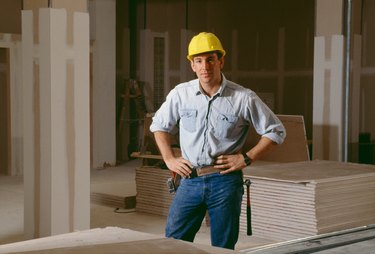 Adding drywall to an unfinished space, such as a basement or attic, is a start to transforming that area into a livable and usable room. (Painting or papering the walls can complete the process.) Though hanging drywall is something a homeowner can do, calling in a professional can accomplish the job more quickly and efficiently.
Workers
Drywall installers are specialty construction workers who help finish the interior spaces of homes, businesses, schools and other structures. They handle drywall, 4- by 8-foot panels of a thin layer of gypsum sandwiched between two layers of heavy paper. The material has largely replaced plaster in interiors because of its standard sizes, ease of installation and relatively low cost. Installers typically learn their trade by shadowing experienced workers or through an apprenticeship. They require both strength and endurance, since the work is physically demanding.
Types
Hanging drywall is a two-part process that is generally divided between two types of workers. Installers, also known as hangers or framers, attach the panels to the interior framework of a structure. They measure, cut and fasten the panels by screwing them to the wood or metal studs. Installers also cut holes in panels for outlets and plumbing. After walls are hung, tapers fill the joints between panels with a joint compound known as spackle. They typically use a special trowel to apply the compound, then apply a paper tape to the wet mud to hide imperfections.
Costs
According to CostOwl, as of 2011, the cost of labor for hanging drywall runs roughly $300 to $400 per day, including hanging, applying spackle and taping. This breaks down to about $10 to $15 per square foot. Calculating the cost of drywall from $6 to $15 per sheet brings the total labor and materials cost to between $30 and $40 per square foot. Note that drywall installers need no licenses to perform their jobs, so ask about warranties on labor when you look for estimates.
Differences
Because costs of living vary by area, the location of the drywall hanging job can affect wages and the eventual price of the effort. The Bureau of Labor Statistics reports that drywall installers earned a mean $19.99 per hour throughout the country. The states with the highest wages for the profession were Hawaii, at a mean $32.05 per hour, and Alaska, at a mean $29.07 per hour. In cities, the best salaries were in Honolulu, Hawaii, at a mean $34.52 per hour; Newark, New Jersey, at a mean $33.71 per hour; and Santa Rosa, California, at a mean $31.78 per hour.