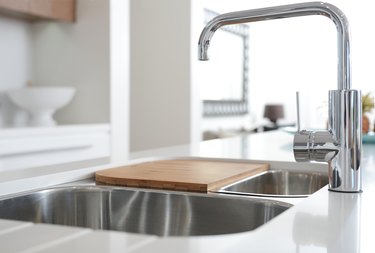 Choosing fixture finishes helps define the look of rooms throughout the home. Stainless steel and brushed nickel are popular choices for kitchens and bathrooms, and faucets and showerheads are typically where the decision can boil down to stainless steel or nickel. Focus on the overall look you want to achieve, and consider the amount of maintenance you want to assume. After weighing the pros and cons of each, you can make an objective decision and make a final choice.
Stainless Steel Fixtures
Stainless steel appliances and objects have been around since the 1930s and continue in popularity as choices for household items, including appliances, sinks, faucets, handles and fixtures. Technically, stainless steel is a finish and not a pure or raw material. Items originate as brass or steel objects, and then they are coated with an electroplating process. The result is an object with a metallic exterior finish, a smooth and shiny surface, and one that is described as "stainless steel."
Brushed Nickel Fixtures
Brushed nickel has a warm, brown-tone appearance, which some homeowners find more appealing for faucets and fixtures in kitchens and in baths. It works quite well against stark-white sinks in bathrooms and kitchens, and coordinates well with certain décor choices such as Tuscan, country French, and rooms with vintage or antique furnishings.
The brownish hue of brushed nickel looks good against a tiled backsplash or stone countertops, such as marble, granite and slate. Nickel creates a look that is warm and earthy in comparison to the high-gloss, shiny finish of stainless steel.
Stainless Steel Advantages
Stainless steel is durable, versatile and easy to maintain. Unlike chrome and nickel, it doesn't display spots as easily and keeps its shiny appearance. Daily maintenance can be as simple as cleaning the surfaces with a sponge and water, and drying with paper towels or a cloth. You do not have to purchase special cleaning formulas to restore the luster and shine. In most cases, a small amount of hand pressure applied to the surface to buff and polish the stainless steel is all that's necessary.
Satin Nickel vs. Stainless Steel
Comparing brushed nickel vs. satin nickel or satin nickel vs. stainless steel can be a tough choice. The finish of stainless steel is always shiny, whereas brushed nickel has a matte or semigloss finish. As a result, stainless steel will blend well if you have other stainless steel appliances and surfaces in a kitchen or bathroom, such as sinks. It is also easier to match stainless steel faucets and fixtures, regardless of the manufacturer.
Brushed nickel, on the other hand, is more difficult to match and coordinate with other appliances, if not altogether impossible or cost-prohibitive. This makes it easier to create a seamless look between faucets and fixtures for kitchen appliances and fixtures by using stainless steel. People who choose brushed nickel do so because they want the fixture and the brushed nickel finish to stand out and are not relying on the object to blend in seamlessly with other appliances and fixtures.
Looking at pictures of brushed nickel and satin nickel can help you determine the differences between the two and which might look better in your home.