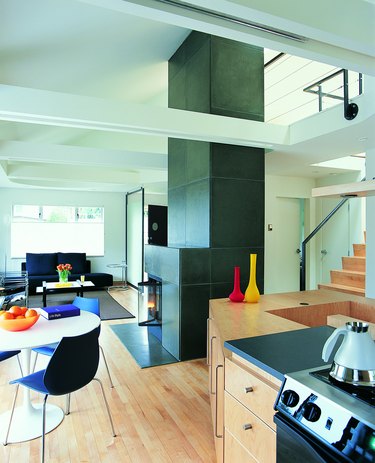 If your steam mop's user manual says nothing other than water should be poured into the tank, you run the risk of irrevocably damaging its system if you attempt to add any kind of scent or additional cleaning fluid. However, as of the time of publication, at least two steam mop manufacturers do supply additives for their products' water tanks. One of these is designed to leave a pleasant aroma on surfaces the steam mop has been used to clean. The other provides extra sanitizing power.
How a Steam Mop Works
Traditionally, steam mops have been designed to clean using only water from the domestic supply. Water in the steam mop's tank is heated until it turns into steam vapor. The vapor is applied to the flooring through a large microfiber pad attached to the cleaning head. Dirt and grease are loosened by the combination of heat and moisture before being absorbed by the pad. The floor is left much drier than after the use of a traditional mop and bucket, and the heat of the steam also sanitizes the surface.
Bissell Eucalyptus Additive
Steam mops are regarded as a "green" form of cleaning, specifically because they use no chemicals. This means they leave none of the smells traditionally associated with domestic cleaning fluids, such as pine or lemon, in the area in which they have been used. Many people like these aromas, so Bissell now supplies a product which creates a scent when used in conjunction with one of the company's steam mops. Bissell says its "Eucalyptus Mint Fragrance" for steam mops is made entirely from 100 per cent demineralised water. A quantity is added to the water tank at the start of the cleaning process. The company says that it creates a pleasant fragrance, but leaves no dulling residue on the flooring being cleaned.
Hoover Disinfecting Additive
The heat generated by steam mops has a sanitizing effect on flooring. However, to really disinfect an area, the steam has to be directed on to it for a number of seconds. As of the time of publication, Hoover is supplying a disinfectant specifically for use in its range of steam cleaners, including its steam mop. Hoover describes the solution as a hospital grade disinfectant which is fragrance free, and prevents mold and mildew on hard surfaces.
Conclusions
Never add anything other than water to your steam mop's tank, unless it is recommended by the appliance's manufacturer. Check the instructions carefully. If you are in any doubt, contact the manufacturer directly and ask about the suitability of using a disinfectant or deodorizing additive.