Things You'll Need
Sponge

White vinegar

Mayonnaise

Cloths

Tan eraser

Emery board

Suede brush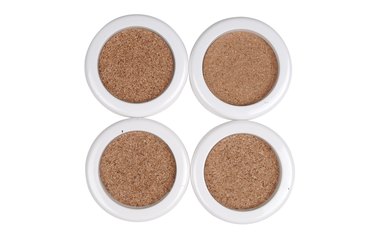 Both hot and cold drinks cause liquid to form on the outside of a mug. This liquid will run down the mug and cause a ring stain on your leather-covered desk or couch. Remove this stain as soon as you can by cleaning it with solvents and tools that won't damage its nap or finish. Choose a nonwater-based cleaning solution for unfinished leather such as suede or nubuck.
Finished Leather
Step 1
Soak a sponge with white vinegar and wring it out so that it is wet but not dripping.
Step 2
Rub the sponge over the ring stain on the finished leather until it is gone.
Step 3
Rinse the area with water and immediately dry it. Don't let finished leather air dry as this can cause it to lose moisture and condition and it can also develop water marks.
Step 4
Rub the white vinegar-soaked sponge over the entire couch cushion or leather table top if the water mark is still visible after you dry it.
Step 5
Rinse the area immediately with water and dry it completely with a clean cloth.
Step 6
Rub mayonnaise into the water mark if you can still see it. Mayonnaise contains fat that will condition the leather and remove the stain. Let the mayonnaise sit for several hours and then wipe it off.
Step 7
Buff the leather dry with a clean cloth.
Unfinished Leather
Step 1
Rub a tan eraser over the ring mark. Don't use pink as this will only turn the leather pink. This will erase most of the stain but it may not remove all of it.
Step 2
Rub an emery board over the stain to remove some of the mug ring residue. Don't rub too hard or use a metal nail file as you can easily damage the leather.
Step 3
Brush the leather with a suede brush to restore the nap.
---
Kaye Wagner has been working in the fields of journalism and public relations since 2006 and is a recipient of a National Hearst Award. She is particularly interested in home-and-garden projects, as well as beauty and fashion writing. An avid traveler, she also writes travel reviews and guides. Wagner earned a Bachelor of Arts in journalism from Brigham Young University.