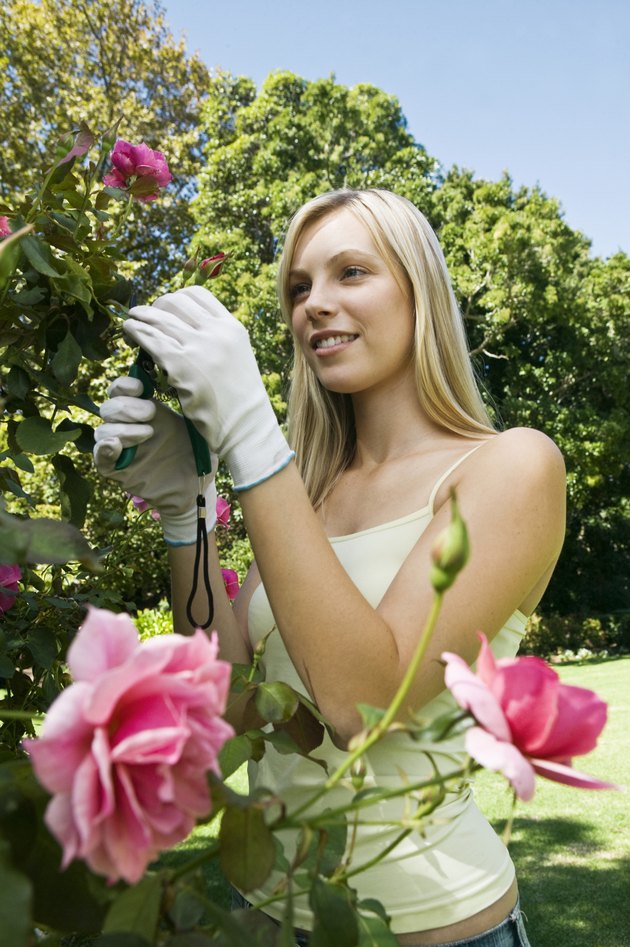 Any rose gardener knows that proper pruning is vital to the health of the bush and propagation of future blooms. They also know that disposal of the cuttings can be cumbersome and painful. The thorny branches are hard to handle and they don't degrade well in compost heaps. A good alternative is to burn your prunings.
Pruning Your Rose Bush
Pruning is vital to the proper growth of your rose bush. Wearing gloves and long sleeves, prune your plant, starting at its base. Use clean, sharp pruners to cut dead and diseased branches, shape the plant, and to foster new growth. Make cuts at 45 degree angles, above new buds.
When to Prune
Although your pruning season depends on the rose species and the USDA hardiness zone in which you live, the fall is generally considered a good time to cut back growth and ready the plant for winter. Long canes left exposed to the elements can become damaged under the weight of snow and ice and cause the roots to loosen from the safety of their soil. Plants that are at least two to three years old should also be pruned in the spring. If your plant has successfully grown to three or four feet, prune in the spring to hasten new growth, healthy blossoming and hardy root development.
Gather Cuttings
Collect all the cuttings from your bushes and leave them outdoors, exposed to sun. If you've got a patch of newly budding grass, the cuttings make a great deterrent for birds and pests. Otherwise, find a safe, sunlit spot where people and animals won't bump into your thorny pile. To fully dry your cuttings, expect to wait six months in most U.S. growing regions.
Use as Kindling
Once the rose cuttings are sufficiently dry, wear gloves and protective clothing and use sharp clippers to trim your prunings to a size that will fit properly to your fire pit. While there is no need to remove thorns, use care when handling the branches. Burn the cuttings outdoors as your community allows, or bring them indoors and use as kindling for woodstoves and fireplaces. Place along with paper below logs as an effective and economical fire starter.
---
Linda Emma
Linda Emma is a long-standing writer and editor. She is also a digital marketing professional and published author with more than 20 years experience in media and business. She works as a content manager and professional writing tutor at a private New England college. She holds a bachelor's degree in journalism from Northeastern University.