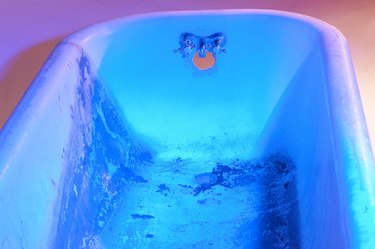 From scratches to grime, a porcelain bathtub is not immune to damage and caked-on debris. Failure to clean the porcelain properly can lead to permanent stains that discolor the tub's finish. However, you can re-paint a porcelain bathtub using an enamel or epoxy-based paint. The paints adhere to porcelain and are not affected by soaps, cleaning solutions or supplies.
Paints
Purchase enamel or epoxy-based paint as well as metal primer. If using a epoxy paint, check the paint's label for the word "waterproof" or instructions that it is safe to use on porcelain surfaces. In addition to paint, you need a paint roller, brushes, nonabrasive cloths or rags, terry cloths and drop cloths.
Rust Repair
Use a mild cleanser to remove any surface rust from the tub. For tough surface rust stains, use an abrasive powered cleaner. For rust that is coming through the porcelain, mix one part muriatic acid to one part water in a bucket. Apply the mixture to a damp terry cloth, then vigorously rub the rust to remove it. Muriatic acid is strong, so wear rubber gauntlet-style acid-resistant gloves and safety goggles. When mixing muriatic acid, add the acid to water and never water to acid; doing so can cause a chemical reaction. Once the rust is gone, pour baking soda on the tub to neutralize the acid, then thoroughly wash the tub with soap and water. Dry the tub with nonabrasive cloths or rags.
Preparation
Before painting your porcelain bathtub, you need to clean the tub with alcohol to remove any caked-on debris and soap film. Follow up the alcohol cleaning by washing the tub with soap and water, then dry the tub. If large chips are present on the tub's surface, clean the chip with alcohol, dry the area, then apply an epoxy resin to the chip. Follow the manufacturer's directions when applying the resin. Let the resin dry for 24 hours.
Painting
Apply a metal primer evenly on the tub's surface to cover any scratches, chips and other imperfections. Let the primer dry for one hour or the recommended time on the primer's container. Apply one coat of enamel or an epoxy-based paint to the tub. Let the coat completely dry before applying a second coat. Apply additional coats if needed until the tub's surface is to your liking. Let each coat completely dry before applying the next one.