Things You'll Need
Satin dress

Black disperse dye

Black fiber reactive dye

Black acid dye

Clothes hanger

Washing machine

Large pot

Stovetop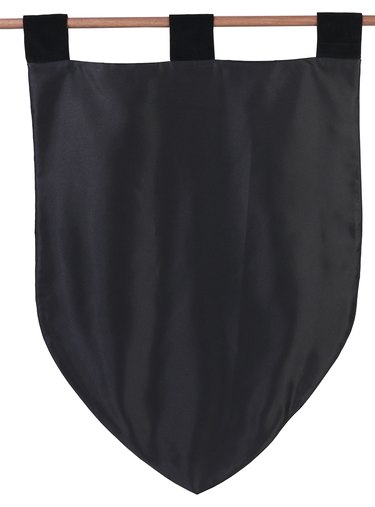 Satin can be a difficult fabric to dye. The glossy surface of this fabric doesn't absorb dyes easily, making it easy for the dyes to wash out. In addition, because satin can be made with a variety of fibers (such as polyester, silk or nylon), the method of dying the satin dress will differ. Some fibers are easier to dye than others. Polyester satin is typically harder to dye.
How to Dye a Satin Dress Black
Step 1
Find out what type of fiber your satin dress is made of. You can find this information by looking at the product label that is sewn on either the back of the dress or somewhere along the side of your dress. Satin dresses can be made with polyester satin, silk satin, acetate satin or nylon satin. Sometimes satin dresses are made with two types of fibers. If this is the case, you should use the dying method of the predominant fiber.
Step 2
Boil a satin dress that is made with polyester satin or acetate satin with black disperse dye for at least 30 minutes. (Disperse dye is a special dye that works on synthetic fibers. It is available online at select companies. In the U.S., Aljo Manufacturing (www.aljodye.com) and Pro Chemical and Dye (prochemicalanddye.com) are two companies that sell disperse dye. Sometimes this dye is called "polyester dye.")
Step 3
Use a black fiber reactive dye for silk satin and rayon satin dresses. Silk is the easiest fiber to try to dye. You can do this in the washing machine using warm water. Add the black dye powder to the water in your automatic washing machine. Shut the lid and allow the dye to dissolve. Add the satin dress into the washing machine and shut the lid again. Allow it to agitate for roughly ten minutes. Very slowly, add the dye fixer to the washing machine. Finally, reset your washing machine to the start of the longest wash cycle and allow the machine to run until it shuts off. Leave the newly dyed black satin dress in the washing machine and fill the machine with warm water and run it through a normal cycle, like you would normally do laundry, but don't use any detergent.
Step 4
Dye nylon satin dresses using acid dyes. Dissolve the acid dye wand salt in a pot that is large enough to accommodate the satin dress. Add enough water to cover the satin dress. Heat the water to "simmer" for ten minutes. Add vinegar and allow it to simmer for an additional ten minutes. Allow the mixture to cool before rinsing.
Step 5
Hang the newly dyed black satin dress and allow it to air dry.
Tip
If the satin dress that you want to dye doesn't have a label, you'll want to cut out a small piece of fabric (from the inside of the dress, along the seam, where it won't show) and try a burn test. (See Resources.)
To get a perfectly black acetate satin dress, you must use disperse dye. While you can use an all-purpose dye, such as Rit, on acetate, the results may not be what you want. The dress may stain.
Warning
You must use disperse dye for polyester satin dresses. If you use another all-purpose dye, such as Rit, the black dye will wash out.
When dying the satin dress in a washing machine, make sure that careful attention is paid to the wash cycle. Allowing the wash cycle to end and the dye to drain out will not give you the desired results.
---
DoanPhuong Nguyen has been a professional writer since 2007. Her articles have appeared in "Nashville City Paper," "Nashville Parent magazine" and numerous online publications. She holds a Bachelor of Arts from Vanderbilt University. She is also member of the Society of Children's Book Writers and Illustrators.