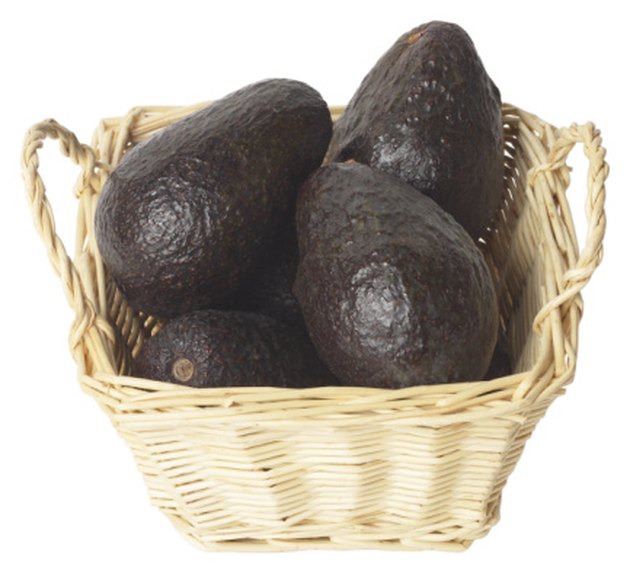 The avocado is a native tree of tropical America and is presently cultivated in all the subtropical and tropical regions of the world. The fruit was introduced in the United States in 1833. The major U.S. producers of avocados include California, Hawaii, Texas, Florida and Puerto Rico. Avocado trees have specific growth habits with the flowers blooming at a specific time of year.
Bloom Time
Avocado flowers grow in terminal panicles or clusters composed of 200 to 300 small, yellowish-green flowers. Flower bloom time is between January and March. The trees also bloom off season during the year and these flowers occasionally also set fruit. Certain varieties of avocado only bloom and produce fruit during alternate years.
Flower Structure
Each avocado flower is classified as perfect and consists of the male and female parts. Flowers measure about ½-inch-deep and ½-inch wide. An ovary is contained in the single pistil. There is also a stigma and an elongated style in the pistil. There are nine stamens around the stamens. The nectar and pollen produced by the flowers attract bees.
Cultural Requirements
Avocado trees are best adapted to regions with mild winters and are tolerant of temperature between 24 to 19 degrees F. Fruit production is best in a full-sun site. The trees thrive in loose, well-drained, sandy loam and adapt to acidic or alkaline soils. Avoid poorly drained sites. Plant in an open site that will give the tree plenty of room to grow easily. If growing in containers, do not use plastic.
Tree Size
Evergreen avocado trees are fast growing and have a mature height of up to 80 feet. The dense branches spread wide to create a broad crown. The tree produces frequent growth flushes in areas with extended warm weather condition. In cooler areas, growth is limited to a long flush per year. It takes a grafted tree one to two years to produce fruits. Seed propagated trees become productive in eight to 20 years.
---
Irum Sarfaraz is a freelance writer with over 20 years of nonfiction writing experience in newspaper op-eds and magazine writing, book editing, translating and research writing. Sarfaraz is originally from Pakistan and has been published in both American and Pakistani newspapers and magazines. She holds a Bachelor of Arts in English literature, and diplomas in nonfiction writing.