Things You'll Need
Light-to-medium grit wood finishing sandpaper

Paint stripper or surface conditioner for lacquered, polished or painted surfaces

Minwax Pre-Stain Wood Conditioner

Natural bristle paint brushes

Mineral spirits or paint thinner

Mixing stick

Fine steel wool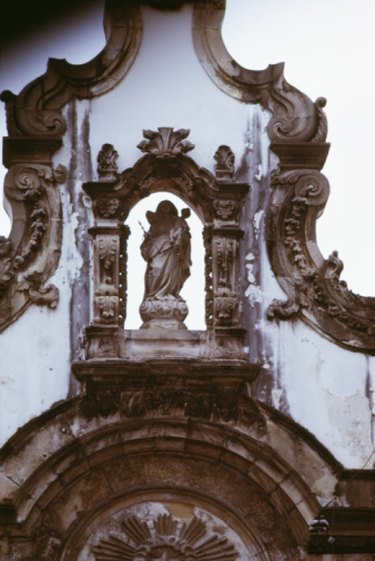 Minwax PolyShades is a combination stain and polyurethane finish for wood. It is recommended for interior wood surfaces such as furniture, molding, doors and cabinets. When using Minwax PolyShades instead of a separate stain and varnish, you save time and effort as you protect and beautify your furniture or trim with a quality, lasting finish. You can apply Minwax PolyShades over some previous finishes with minimal preparation, and it is available in traditional wood finish colors. You can also use additional polyurethane varnish to further protect and enhance surfaces that you have finished with PolyShades.
Step 1
Prepare raw wood by sanding it smooth, or previously stained wood by sanding it lightly to improve coverage. Make sure the surface you are staining is free of old finish, dust, dirt or sandpaper residue. Strip any paint, lacquer, shellac, polish or products containing stearates from previously finished wood with paint remover or surface conditioner (liquid sander) if you cannot remove it by sanding.
Step 2
Coat soft, porous woods such as pine or alder with Minwax Pre-Stain Wood Conditioner by applying it with a brush or cloth. Allow it to dry for five to 15 minutes, and then use a dry cloth to remove the excess. Finish the surface with PolyShades within two hours of application of the Minwax conditioner.
Step 3
Open the can of Minwax PolyShades and stir the contents well with a mixing stick.
Step 4
Brush PolyShades finish onto a small hidden area to make sure the color you selected appears as you want it to on your actual wood surface. Return to your retailer and purchase another color if you are not pleased with the results of your test.
Step 5
Use the paintbrush to brush on a thin, even coat of PolyShades and make sure to follow the direction of the grain when applying the finish. Maintain a wet edge between areas that you finish, and clean the brushes with mineral spirits when you are finished.
Step 6
Let the coated surface dry for at least six hours before rubbing the surface with fine steel wool. Be careful to rub with the grain.
Step 7
Apply a second thin coat with the cleaned brush. Brush on additional coats or follow up with a polyurethane varnish if you want a deeper color or shinier protected finish.
Step 8
Clean the brushes, mixing stick and any spills with mineral spirits.
Tip
In California, Minwax PolyShades is 275 VOC compliant, which has a lower concentration of polluting volatile organic compounds, and is sold in place of the usual PolyShades formula in order to comply with state environmental laws. It is used in the same manner as the regular PolyShades finish except that you should allow eight hours for the first coat to dry, and drying times can be even longer in hot, humid environments.
Warning
Keep Minwax PolyShades and Pre-Stain Wood Conditioner out of the reach of children and pets, and do not use either product near a source of flame, sparks or extreme heat.
Wear rubber gloves and eye protection when using this product.