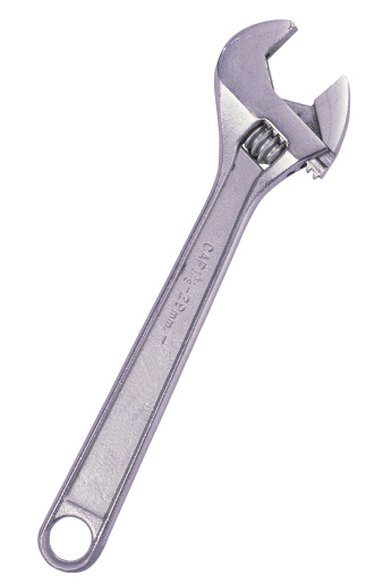 Plastic compression fittings are designed to create water tight joints that require no heat or cement. Each fitting consists of the fitting's body, a compression ring (known also as a ferrule) and a compression nut. Most compression fittings have a ring and nut on each end to attach to pipes together, or a third ring and nut in the case of a T-shaped fitting where two pipelines join together. Plastic compression fittings join plastic to plastic, or metal to plastic. Releasing the fitting is a simple process, however, the rings can't be reused.
Step 1
Turn off the water supply to the pipe attached to the plastic compression fitting. Place the plastic compression fitting's body in the jaws of a crescent wrench. Tighten the wrench's jaws to the fitting's body.
Step 2
Place the compression nut in the jaws of a second crescent wrench, tightening the wrench to the nut. Firmly hold the wrench handle that is attached to the fitting's body. Turn the wrench's handle attached to the compression nut clockwise until the nut loosens.
Step 3
Remove both wrenches. Hold the fitting's body in one hand and unscrew the loosened compression nut by hand. Slide the nut along the pipe. Pull the pipe away from the compression body. Slide the ring off the end of the pipe and discard it. Slip the compression nut off the pipe and screw it onto the fitting's body. Repeat the entire process to remove the pipe from the other end of the fitting.
Tip
Though the rings can't be reused, new rings can be purchased. The compression body and nuts can be reused if they're in good shape.
---
Steve Sloane started working as a freelance writer in 2007. He has written articles for various websites, using more than a decade of DIY experience to cover mostly construction-related topics. He also writes movie reviews for Inland SoCal. Sloane holds a Bachelor of Arts in creative writing and film theory from the University of California, Riverside.