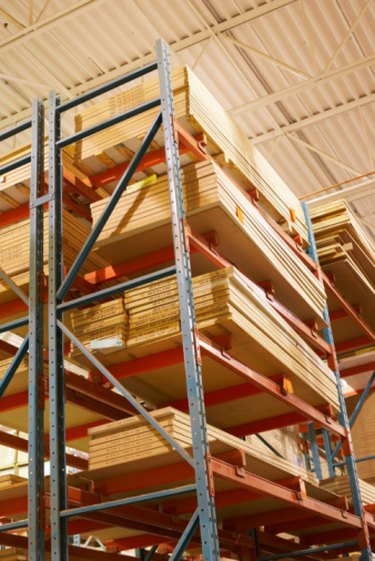 Plywood is available in four common grades. Grades AA through E represent the quality of each side of the sheet of plywood, with grade AA being the highest quality with no defects in the visible veneer. Plywood that does not meet the criteria for these grades, plywood that might be considered factory seconds, is marketed as shop grade or mill-certified plywood. Shop grade plywood commonly has a large usable portion.
Defects
Plywood is a processed wood product made of thin layers of wood, placed with the grains running at perpendicular angles, glued together into 4-by-8 foot sheets. Almost any type of defect results in a sheet of plywood being declared shop grade. This can include but isn't limited to damage to the veneers that form either the exterior or interior portions of the sheet of plywood. It also can include sheets of plywood damaged in shipping. This type of damage often occurs along the edges of the sheet.
Types
Because plywood is rated as shop grade because of defects, almost any type of plywood can end up in the shop grade bin. This includes interior and exterior plywood of any thickness. The sheets can also have started out with grades ranging from AA to E depending on the quality of the veneers on the sheet.
Places to Buy
Shop grade plywood can be marketed by almost any home improvement store or lumber yard. Because it is a factory second, it is often available at the mill or at outlets near the producing lumber mills. It is not always available at all outlets. Pricing of shop grade plywood is often based on the usable portion of the sheet. A sheet where half can be used while half would be discarded may be priced at about half the price of a good sheet of plywood.
Usability
The quality of the sheets of shop grade plywood vary depending on the evident defects. In all sheets, some portion is usable. To use the plywood, cut the sheet and discard the unusable portion. Intermountain Wood Mills says that mills commonly produce shop grade plywood as a part of the production process and that this plywood has at least 85% usability.
---
Keith Allen, a 1979 graduate of Valley City State College, has worked at a variety of jobs including computer operator, medical clinic manager, radio talk show host and potato sorter. For over five years he has worked as a newspaper reporter and historic researcher. His works have appeared in regional newspapers in North Dakota and in "North Dakota Horizons" and "Cowboys and Indians" magazines.