Boxwood is a versatile plant often used as a backdrop for low-growing shrubs and perennial plants, or they are used to create symmetrical edgings around flowers, herbs or vegetables. The exact variety of boxwood that you are growing will help you determine which companion plants will look the best in close proximity. Boxwood is heat- and drought-tolerant once established, plus it is easy to shear into a formal hedge or unique topiary.
Colorful Companion Plants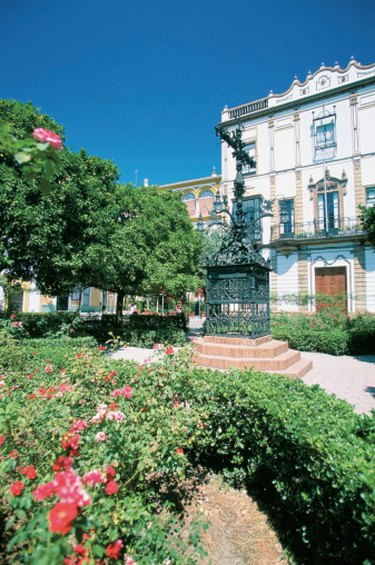 Create interest in the winter garden by growing hellebore around boxwood. The boxwood shrub will give the hellebore protection from the winter weather elements and provide some shade in the summer once it is tall enough. As winter turns into spring, make sure you have a wide variety of bulbs planted around the boxwoods. Choose varieties that begin blooming early in the season and continue through late spring or early summer to create a riot of color. Roses, daylilies (Hemerocallis), foxglove (Digitalis), coneflower (Echinacea) or blazing star (Liatris) will look good during the summer. Light up the fall garden with mums or fall-blooming bulbs such as fall crocus.
Companions With Textural Contrast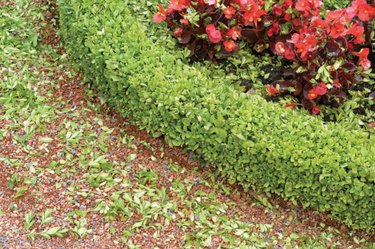 Companion plants that contrast with boxwood texturally create interest in the garden, especially if those plants are variegated or have a unique foliage color. Plants whose foliage are too much alike seem to merge with one another, and distinguishing them from one another, especially from a distance, is difficult. Good companion plants with textural contract include thyme, hosta, lady's mantle, lirope, germander, rosemary or sage. Combine boxwood with low-growing shrubs with yellow or dark-colored foliage. This will add both color and texture. If the shrubs flower or produce berries, that creates even more interest.
Companions For A Formal Garden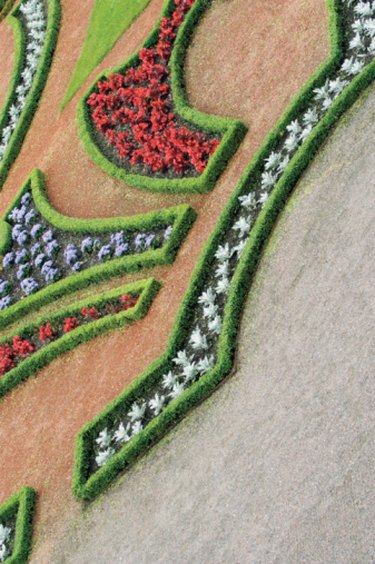 Boxwoods have long been found in formal gardens partly because they are ideal for keeping other plants in bounds. Fragrant plants, herbs and sometimes vegetables are grown inside of symmetrical boxwood designs. Some gardeners even use boxwoods to create knot gardens. Other plants may or may not be grown inside of a knot garden. Flowering grasses look good when surrounded by boxwood and it creates a neat appearance that formal gardens are so well-known for. Surrounding conifers with boxwood is another design idea often seen in formal gardens.
Companions For A Natural Garden
It is not necessary to shear boxwood, especially if you are using them in a natural setting such as a wildlife garden. Lilac, ninebark and potentilla are ideal companion plants for this type of garden. The bright-green foliage of boxwoods looks good as a backdrop for a variety of native flowering plants. Use it as a hedge where wildlife can nest or a natural fence. Boxwoods are evergreen, so besides adding color to the winter garden, it continues to offer wildlife such as birds protection all winter.