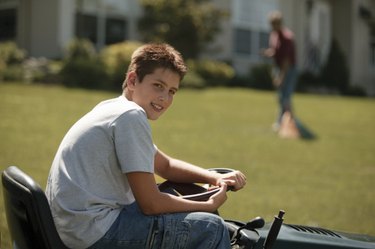 Riding lawn mowers have a safety switch located under the seat. This switch, commonly called a "kill switch" turns off the engine when the mower deck is engaged and the rider gets off the seat. This prevents injury in the event the rider falls of the mower while operating it. If you suspect the switch of malfunction, there are several things you can do to troubleshoot the issue.
Step 1
Lift up the seat on the tractor and locate the switch. The seats on a lawn tractor typically have hinges to allow access to the battery. However, in some cases, you will need a wrench set to remove the seat.
Step 2
Locate the pressure switch. In most cases, the pressure switch looks like a metal dome and you can see where the seat presses up against the switch. Inspect the wires connected to the pressure switch. If you locate any disconnected wires, reconnect them to the wire terminals on the switch. If you locate any broken or frayed wires, replace them before continuing to troubleshoot.
Step 3
Check the owner's manual to determine if your mower will turn off when you get off the seat even if the mower deck is disengaged. This will differ depending on brand and model. Some will turn off and some will stay running if the mower deck is disengaged.
Step 4
Sit on the seat and start the motor. Check to ensure the mower decks is disengaged and then stand up. If the mower responds appropriately, the switch works when the mower disengaged. If the mower does not respond according to the owner's manual, the switch is defective.
Step 5
Engage the mower deck but leave the mower in "park" or "neutral."
Step 6
Stand up. The mower will turn off if the switch works properly. If the mower stays running, the switch no longer works properly.