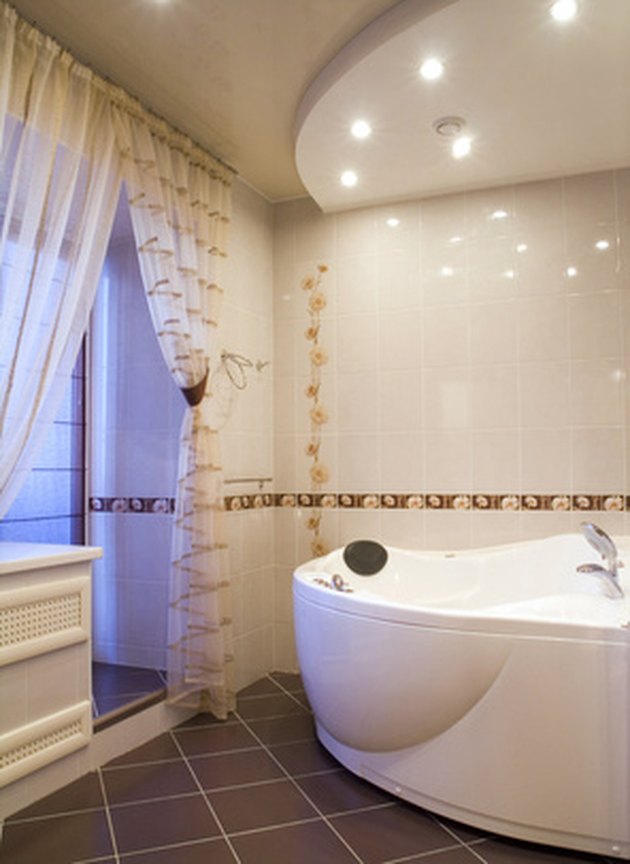 A bathroom floor is one place in the house where you are most likely to find tiles; tiles are resilient, stain-resistant and can withstand the moisture and temperature fluctuations characteristic of a bathroom. While installing your new bathroom floor tile, you will face the option of tiling under or around your vanity; you can install tile either way, depending on what you want to do with your vanity.
Vanity Future
Whether the tiles run under or around your vanity depends on the plans you have for it. If you like your vanity and intend to keep it where it is, do not bother to remove it during tile installation; you can simply tile around it. If the vanity is old, damaged, doesn't fit your design or is in the wrong place for your revamped bathroom, you can remove it and then replace it with a new vanity or in a new location after the tile installation is complete and dry.
Removing Vanity
Aside from being able to replace or move the vanity, removing the vanity offers a number of other advantages. You will have more room to work in the bathroom with the vanity out of the way. Removing the vanity will also cut down on the amount of tile and backerboard trimming you have to do as you work around the installation. The method of removing the vanity varies by the installation method. You will likely need a screwdriver and pry bar to get the vanity from its place on the floor.
Tile Under Vanity
If you remove the vanity, tile the floor underneath the vanity just like you do the rest of the floor. When the time comes to reinstall the vanity, you will simply install the new piece of hardware through the tiles and into the floor. This is easiest with linoleum or vinyl tiles. If you are using ceramic tiles, drilling to install the new vanity can cause serious cracks and splitting in the tiles, so consider tiling around the vanity or installing a new one before you begin tiling.
Tile Around Vanity
If you decide not to remove the vanity, you must cut the backerboard and tiles to fit around the base of the vanity. Make sure you follow your manufacturer's instructions when cutting to install around objects; some tile makers require a gap to allow for expansion due to temperature and humidity changes. Once the installation is complete, seal the gap between the vanity and tiles with bathroom caulk to prevent water leaks and moisture damage on the base of the vanity or the backerboard.
---
Samantha Volz has been involved in journalistic and informative writing for over eight years. She holds a bachelor's degree in English literature from Lycoming College, Williamsport, Pennsylvania, with a minor in European history. In college she was editor-in-chief of the student newspaper and completed a professional internship with the "Williamsport Sun-Gazette," serving as a full-time reporter. She resides in Horsham, Pennsylvania.