No matter what anyone else says, you just love your futon. It's comfy, cozy and oh-so convenient. If there's one thing that's keeping it from being your favorite piece of furniture in the house, it's probably the issue futons are notoriously known for: slipping off the frame. But no fear—in most cases, there are simple ways to remedy this nuisance.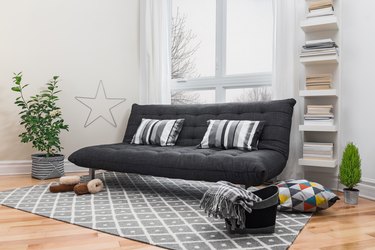 If the Culprit is the Mattress Material
The most common reason for mattress sliding is a lack of friction between the mattress and frame. Our easy solve is a DIY "gripper" you can nestle in between the two. To do this, you'll need to purchase some non-slip material from your local home store. It usually comes in a roll and is commonly placed between hardwood floors and area rugs to keep the rug from slipping. Place this material between the futon frame and mattress. It can be cut to size and will remain unnoticeable from the front of the futon.

You can also choose to purchase a cover for your mattress or use this solution in tandem with the gripper. All you'll need to do is purchase a cover for your mattress. Most futon mattresses come in a basic cotton or polyester blend fabric, which slips easily against the metal or wood on a futon frame. Covers will not only protect the mattress from stains, but they are made in a variety of comfortable materials.
If the Culprit is a Squeaky Frame
Your slipping issue could be a result of a sagging frame, in which case, you may just need to tighten the bolts. Make sure to check up on your futon frames bolts every few months to ensure a sturdy and sound foundation.
If the Culprit is an Unlevel Frame
You might not even realize it, but your frame could be resting in an unlevel position. With just a slight adjustment, the level surface could solve all your mattress sliding worries.
If the Culprit is Tossing and Turning at Night
If you've tried these fixes and are still left with a futon mattress that slides out of place, it could simply be the movement you create while on top of the mattress. You might toss and turn throughout the night, or maybe you have children who play atop the futon. A simple fix to this is securing your mattress to the frame with straps.
To do this, you'll need to sew a piece of cording on each corner of the mattress's underside to create loops. When you place the mattress back on top of the frame, slip wraps through the newly created loops and tie it to the futon frame's openings. Voila! Your mattress is now securely tied to the frame! Cut off excess loop cord to make sure they're out of sight.