Things You'll Need
220-grit sandpaper

Trisodium phosphate cleanser

Painter's tape

Stain-blocking primer

Airless paint sprayer

Paintbrush

Latex or oil-base paint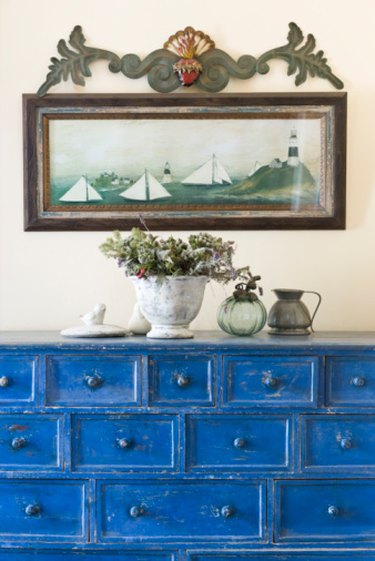 If you've found a piece of ugly wood furniture with a silhouette that matches your decor, you can do some painting to make the outdated surface better fit your style. Stained and varnished finishes are designed to be durable, and it's hard to paint over these long-lasting exteriors if you don't use the right tools. Painting stained and varnished furniture requires some specialized prep work, but the right approach gives you lasting paint coverage and a fresh look.
Step 1
Sand the stained or varnished furniture using 220-grit sandpaper. Sandpaper helps add texture to smooth, varnished surfaces for easier painting.
Step 2
Wash the sanded surface using a trisodium phosphate cleanser. This cleaning solution removes sandpaper dust, but it also cuts latent oils that can adhere to slick, varnished surfaces.
Step 3
Apply painter's tape to the furniture if there are any portions that you want to leave unpainted. If you're painting the entire piece of furniture, you don't need to worry about using protective tape.
Step 4
Apply stain-blocking primer to the surface using a paintbrush or airless paint sprayer. Brushes are good for precision control over fine details, but an airless paint sprayer provides quick coverage of large pieces of furniture. Wait for the stain-blocking primer to dry before proceeding.
Step 5
Coat the furniture with a second layer of stain-blocking primer if you notice any bare patches. Wood stain is notorious for seeping through paint, so it's important to ensure good stain protection with full primer coverage. Wait for this second layer to dry.
Step 6
Apply latex or oil-base paint to the primed furniture surfaces using an airless sprayer or paintbrush. Wait for this base coat to dry.
Step 7
Add a second layer of latex or oil-base paint to the furniture if there are any bare patches. Avoid using the furniture or removing the protective painter's tape for a full 24 hours. While the paint will be dry to the touch in just a few hours, your finish will last longer if you let it cure for a full day.