Things You'll Need
1 tbsp. dishwashing soap

Sponge

1 cup baking soda

Cream of tartar

3 percent hydrogen peroxide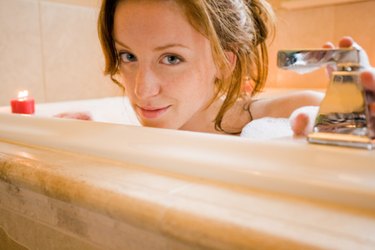 Enamel is a resilient surface that adds a glassy finish to porcelain, metal and pottery. Applied by fusion, enamel is commonly used for cookware, sinks, bathtubs and tiles. Like all household surfaces, an enamel bath needs routine cleaning because of its exposure to dirt, body oils, hard water and soap scum. While enamel is durable, the wrong cleaning products can damage it. Acids can wear away the surface, ruining the fine gloss, and abrasive cleansers can scratch, leaving unsightly scuffs. Fortunately, you can use common household to safely and effectively clean enamel tubs.
Step 1
Pour 1 tbsp. of liquid dishwashing soap into 1 qt. of hot water. Stir vigorously to generate suds. Sponge the soapy water over the surfaces of the tub, rubbing briskly and moving the sponge in small, circular motions. Rinse well with warm water, washing the soap away.
Step 2
Place 1 cup of baking soda into a large bowl. Add enough warm water to create a thick paste. Spread the paste over any stained areas of the bath. Allow the paste to sit for five to 10 minutes and then scrub gently with a damp sponge. Rinse well to remove any residue.
Step 3
Treat any remaining stains with a combination of cream of tartar and 3 percent hydrogen peroxide. Pour cream of tartar into a shallow dish and add enough peroxide to make a paste. Apply the peroxide treatment to any areas of discoloration and scrub. Rinse well and repeat, if needed.
---
Lisa Parris is a writer and former features editor of "The Caldwell County News." Her work has also appeared in the "Journal of Comparative Parasitology," "The Monterey County Herald" and "The Richmond Daily News." In 2012, Parris was honored with awards from the Missouri Press Association for best feature story, best feature series and best humor series.