Things You'll Need
Measuring tape

Straight edge ruler

China marker

Utility knife with extra blades

Work gloves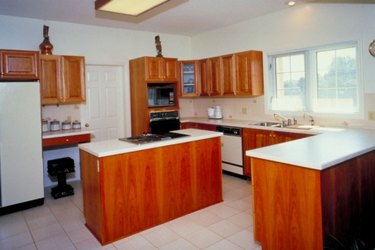 Peel-and-stick tile is a popular do-it-yourself project and is often tackled by the novice handy homeowner who wishes to save on flooring installation costs. While the process appears to be straightforward, there are obstacles that the inexperienced often encounter when attempting this project for the first time. One example is how to cut the peel-and-stick tiles to fit in areas too small for a full tile.
Step 1
Measure the spot where the cut tile will be installed.
Step 2
Transfer the measurements onto the top side of the tile that will be cut using a China marker and taking care to check the measurements for accuracy.
Step 3
Place the tile top side up on a hard surface that will withstand cuts.
Step 4
Align a straight edge ruler on the cutting line, pressing the ruler tight to the tile so neither ruler nor tile can shift position.
Step 5
Cut the tile, using a utility knife with the blade held at a 45 degree angle and pressing firmly onto the tile. Note that it is not necessary to cut through the tile, but to score it deeply with the knife.
Step 6
Hold the tile in both hands with the cut between your hands; bend the tile in half. It will snap cleanly where the score was cut.
Step 7
Turn the tile over and slit the paper backing at the cut. Your tile is now ready to install.
Warning
Always wear gloves when using a utility knife.
Always cut away from your hands and body.
---
Robin Hewitt began her writing career in 2008. She is the coauthor of several books, including "The Joyous Gift of Grandparenting," which covers the nutritional and fitness needs of both grandchildren and grandparents.