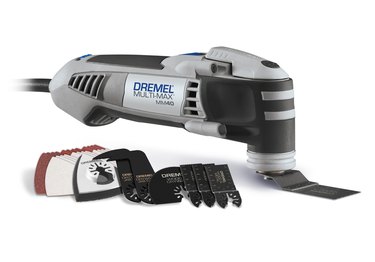 Oscillating tools are also commonly called multi-tools and with good reason. Equipped with the appropriate attachments and used within their scope, oscillating tools can accomplish tasks that other power tools literally can't touch. That's because the oscillating multi-tool with its narrow body and forward-projecting blade excels in tight spots. The blades can cut wood, metal, plastic and other materials and are offset, making flush cuts a breeze. Other attachments enable the tool to grind, scrape and sand.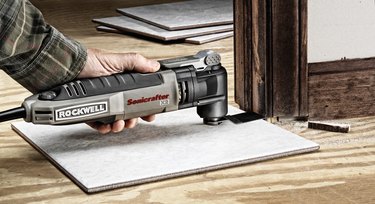 The Secret is Oscillation
Oscillating tools work by moving a blade or other attachment back and forth a very small distance—usually 2 to 4 degrees—at a speed of up to 22,000 oscillations per minute. At that speed, the motion feels like a vibration. Within that range of oscillation, the general principle to keep in mind is that the larger the oscillation, the faster the tool will work; the smaller the oscillation, the finer and more controlled will be the cut. Because the range of motion is so small, oscillating tools don't spray sawdust and debris the way circular cutters do, and because the blade moves alternately in both directions, the tool is unlikely to kick back the way a circular tool can.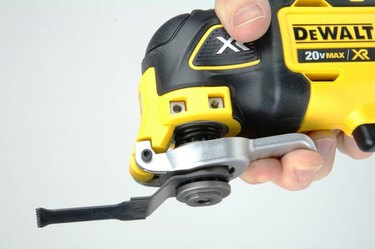 Finding Your Ideal Tool
When selecting an oscillating tool, you can choose between corded and cordless models, and the advantages and disadvantages of each are about what you'd expect. Cordless units can go anywhere, but to get one that matches the power of corded tools, you'll pay a premium price. Eventually those batteries will need to be replaced, and that's another expense. Corded oscillating tools are tethered to a cord and to an outlet, naturally, but they tend to be less expensive and more reliably powerful than the cordless ones. Because these tools are intended for close-in tasks using blades usually no more than an inch or two wide, most of the applications for which this tool is best suited will be indoor ones where having a cord attached should present little inconvenience.
When shopping for an oscillating multi-tool, you'll find that competing brands have different sets of features. You'll have to weigh the benefit of those features against your anticipated use for the tool and the cost differential. Some of the better tools feature a variable speed trigger, which lets you ease up on the cutting speed and to back off quickly if the blade overheats. Some models that offer variable speeds use a dial rather than the trigger to set those speeds. Some economy-level tools run at a single speed. In addition, some of the models are equipped with "soft start," which automatically eases the blade up to full speed.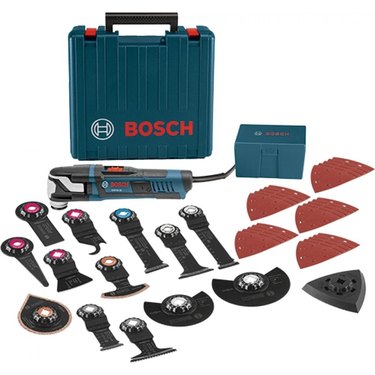 Consider the Attachments
Taking full advantage of this versatile tool entails frequent swapping of accessory blades and pads. When first introduced, most of the oscillating tools required a wrench to change attachments. Some still do, but many of the higher-end professional models now feature some sort of tool-less system for changing blades. Another consideration is whether or not the tool you choose requires proprietary attachments or can utilize blades from other manufacturers, with or without special adapters. Blades and other attachments for oscillating tools are expensive—so much so that it begins to appear, as with ink-jet cartridges and razor blades, the real profit for the manufacturers lies in the sale of the consumable blades and not in the durable tool. With blade prices ranging from about $7 each to over $20for some specialized blades, it's easy to see how you may spend more on blades than on the tool itself.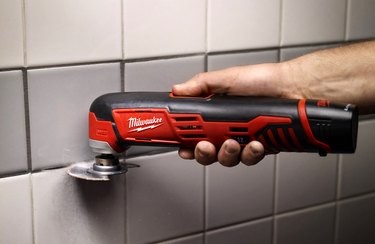 So What Can an Oscillating Tool Do?
Perhaps the best way to present some of the capabilities of an oscillating multi-tool is by describing the various attachments and their functions.
Woodcutting blades are likely to be the ones you use most often. Wider blades are easier to keep straight in a long cut. Narrow straight blades are the ones to use for a plunge cut. Because the blades are offset from the tool, flush cutting—under baseboards and beneath doorjambs, for example—is one of the things this tool does best. For faster cutting, blades with Japanese-style teeth do the job nicely.

Bi-metal blades are the smart choice if the wood you are cutting may include nails. Bi-metal blades with their finer teeth cut more slowly, but hitting a nail won't destroy them, as it can with regular wood blades.

Grinder blades and their tougher sibling carbide grinder blades are great for removing thin-set mortar, tile adhesive and grout. Rather than teeth, grinder blades employ abrasive particles embedded along their rim.

Scraper knives come in various widths and are available with either rigid or flexible blades. Use scraper knives to remove old carpet or linoleum, floor adhesive, caulk or loose paint. Hook scraper attachments are great for getting into crevices.

Sanding pad attachments and rasp attachments enable you to use your multi-tool like a detail sander to smooth and shape. Matching sandpaper sheets come in a variety of grits.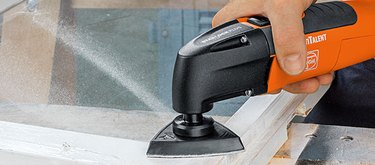 Which One?
There is a substantial difference in power and durability between the professional grade oscillating tools and those aimed at the budget-conscious weekend do-it-yourselfer. The professional tools come with features that are a boon to the heavy user—things like a quick-change accessory system and variable speeds. For the home handyman with a single project in mind, a less robust machine may be perfectly adequate. But if you're the sort of person who takes pleasure in using solid, serious tools—tools you only have to buy once—you may prefer to make the investment in a professional model. Every brand will have its individual features but you can expect to be satisfied with the performance of professional multi-tools from Dewalt, Makita, Dremel, Porter-Cable, Bosch, Rockwell, or Fein.
Some aspects of choosing the ideal multi-tool will be a matter of personal preference and can only be determined by handling different models. Their various weights and circumferences will make some of them more comfortable to hold and manipulate than others, but that's relative to your individual anatomy. Only you can judge which fits you best.