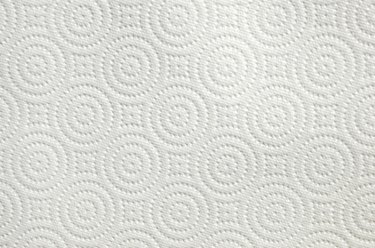 Paper towels vary in size and quality from brand to brand. Consumers look for paper towels that are inexpensive yet durable. Consider size when purchasing your next package of paper towels.
Size
As of 2010, the typical size of a manufactured paper towel is a square 11 inches by 11 inches. Some paper towels have perforations to easily divide towels into 11-by-5.5 inch sections.
Rolls
Consumers can typically purchase one, two, three, four, six or eight paper towel rolls in a package. Bulk retail stores may offer more rolls for sale in a package. A typical roll contains at least 100 sheets of two-ply material.
Durability
As a rule of thumb, the more inexpensive the paper towel, the more likely it is to rip and the less likely it is to adequately soak up spills. A study by the North Caroline School of Science and Mathematics Statistics Leadership Institute showed that Bounty outperformed competitors in most tests of durability.