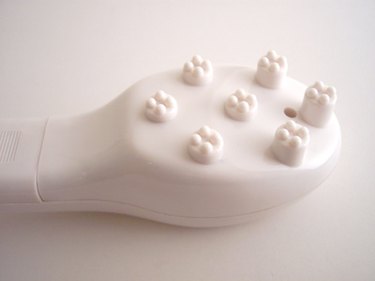 Electric massagers have provided convenience for people who want to stay at home and rest, read, surf the Internet or watch TV during a soothing massage. Since they come in all sorts of shapes and sizes, it is possible that electric massaging devices can become an ideal substitute for professional massage service. However, you should be aware of some potential adverse effects associated with the use of electric massagers before purchasing one.
Potential Stroke
Using an electric massager in and around the throat or front and sides of your neck area could tragically result in an internal carotid artery dissection. This disruption and irritation of the carotid artery's functioning can result in a massive ischemic stroke, and has for many people.
Shock
Although most electric massagers are sealed tightly with batteries or cords protected by plastic or rubber coverings, watch for exposed wires that could appear from faulty or damaged cords. As with any electric device, shock can result from metal wiring, particularly if you are wet. Do not ever attempt to use an electric massager in a bath, shower or pool.
Worsening Effect
Not all pain stems from tight muscles. However, it is embedded in most people's minds that rub, rub and rubbing some more (particularly in the form of electric vibration) is a cure-all to pain. On the contrary, some pain is the result of blood clots, broken bones or internal lacerations--all of which are likely to worsen under the stress of massage. Be absolutely sure that the pain you are experiencing is due to muscle tightness before attempting to use an electric massager for relief.
---
Born and raised in western New York, Tonya Cunningham attended Niagara University until 1992 as a pre-law student. Today, Cunningham is a legal assistant and freelance writer looking forward to the completion of her first book.