Help protect and preserve your favorite denim jeans and washables with a surprising laundry additive -- white vinegar. Adding vinegar to the denim's first wash cycle helps prevent premature fading, keeping those jeans looking new even after you've worn them many times. A vinegar soak for dark denim that easily loses its color also helps prevent that dye from rubbing off on your skin.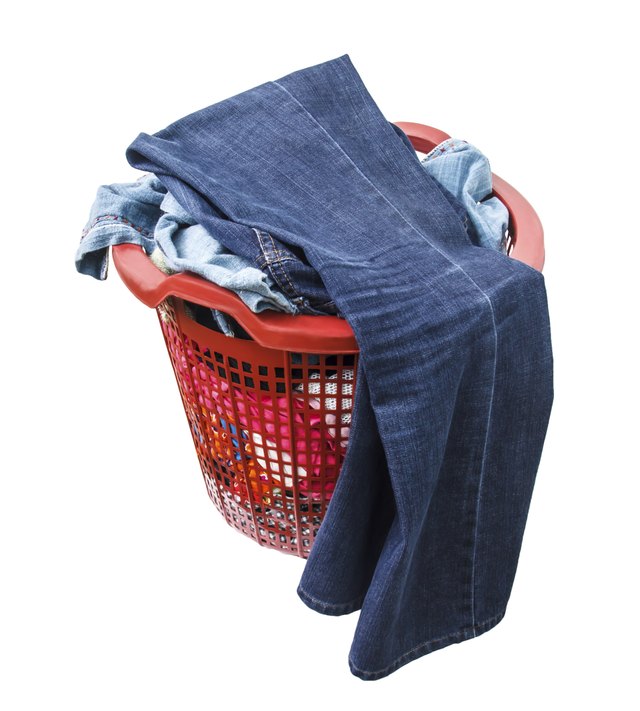 credit:
phatthanit_r/iStock/Getty Images
A Soak for Not-So-Colorfast Denim
Denim in rich colors such as dark indigo or black may bleed easily, dyeing other fabrics in the wash or even rubbing off on your body, especially if the denim gets wet while you wear it. Prevent this tint trauma by soaking the denim for an hour in 2 quarts of cold water mixed with 1/2 cup each of white vinegar and salt. Rinse out the denim; if you notice any dye in the rinse water, soak the item for an additional hour.
The first wash often removes a good deal of dye from denim, making it fade faster than you may like. Set the dye by selecting cold water and a small or medium load size on the washing machine, depending on the size and quantity of denim items. Once the water starts to fill the machine, add 1 cup of white vinegar. Turn the denim inside-out, whether it is a pair of jeans or a jacket. Run the usual wash and rinse cycles without adding detergent or fabric softener. Air-dry the denim after the final rinse. An extended spin cycle after the final rinse helps remove excess water. Pull or shake the denim back into its original shape before hanging it on a clothesline or setting it on a drying rack.
Every time you wash your denim, turn it inside-out first to help protect the color. Alternate washings: The second time you wash the denim, use a small amount of laundry soap; on the third time ,wash it with 1 cup of vinegar in place of the detergent to help preserve denim with a dark or deep color. Stick with cold water each time you wash the denim to help retain its color and prevent shrinkage. Wash denim with other denim items of a similar shade; keep the red jeans out of a load of new blue denim, or the colors may bleed a bit onto one another. Another way to keep those jeans looking new longer is to only wash them after every three or four times you wear them if they aren't dirty. Air-dry your denim to help keep its fibers from breaking down. It may feel a tad more stiff than if tumbled it in the dryer, but it will last longer.
Beneficial Boosts From Vinegar
Besides helping preserve that deep, dark denim color, vinegar helps keep those jeans and jackets smelling fresh and feeling soft. Remove cigarette smoke and food odors from denim by adding 1 cup of vinegar to the final rinse cycle. Vinegar in the rinse cycle also helps remove soap residue.