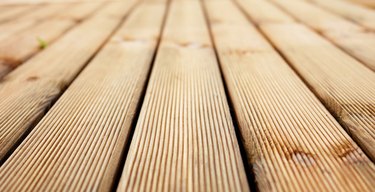 An 8-by-10-foot deck can be a great place to relax, grill and entertain in your back yard, without having your guests walk all over your lawn. If you have a little experience with a hammer, saw and drill, building a deck can be a fun weekend project. But before you get started, you'll need to purchase the right materials.
Wood
Wood will make up the body of the deck and will be the most plentiful material you will have to purchase. You will need six 4-by-4 or 6-by-6 pieces of lumber for the posts and four 2-by-10 pieces of lumber that are at least 10 feet long. The latter will combine to make up the two large beams to support the deck. You will also need eight 2-by-6 beams for your joists, which have to be at least 8 feet long. Finally, for the decking surface, you will need 35 2-by-4 pieces of lumber that are at least 8 feet long.
Concrete
The deck will need to be anchored into the ground using concrete. There will be six holes, 8 inches in diameter and 12 inches deep--or deeper, depending on the height of the deck. Each hole will require a 60-pound bag of concrete mix. You will also need some water available to wet the concrete.
Connectors
The connectors have the task of holding the beams to the posts and the joists to the beams. All connectors have to be made from galvanized metal or stainless steel to protect them from rust. You will need six 3 1/2-inch post anchors, or 5 1/2 inch ones of you are using 6-by-6 posts, four 8-inch angle brackets for the corners, and 12 2-by-6 joist hangers.
Fasteners
Use can use nails or screws to connect the pieces of your deck together; just remember to always use galvanized or stainless steel fasteners. You will need 10d and 8d nails, which equate to 3-inch and 2 1/2-inch screws. You will need at least 300 of the larger fasteners, which attach the deck to the joists, and around 150 of the other type. Finally you will need 12 6-inch lag bolts to connect the beams to the posts.
---
Shawn McClain has spent over 15 years as a journalist covering technology, business, culture and the arts. He has published numerous articles in both national and local publications, and online at various websites. He is currently pursuing his master's degree in journalism at Clarion University.