Things You'll Need
Rag

Medium-grit sandpaper

Tack cloth

Epoxy-based putty

Flexible putty knife

Fine-grit sandpaper

Extra fine-grit sandpaper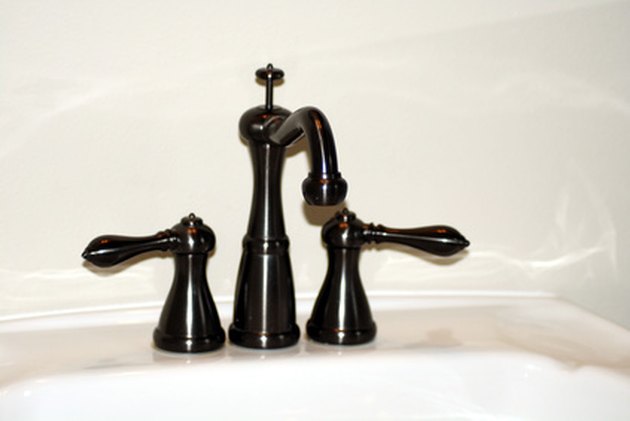 A tub surround fits the walls around a bathtub to protect the walls from water. Tub surrounds are available in acrylics or fiberglass. They come in a wide variety of colors, styles, patterns and price points. Tub surrounds are a popular choice among homeowners because they are easy to maintain and less expensive than ceramic tiles and other natural stone wall coverings. Generally, fiberglass and acrylic tub surrounds hold up well: But occasionally, they can develop cracks.
Step 1
Wipe the cracked area with a damp rag to remove dirt. Dry thoroughly with a clean rag.
Step 2
Sand the cracks with medium-grit sandpaper to remove soap residue, oils and provide the putty with a good gripping surface.
Step 3
Wipe the surface with a tack cloth to remove bits and particles of sanding dust. A tack cloth is a sticky cloth that picks up and holds sanding dust.
Step 4
Apply an epoxy-based putty with a flexible putty knife to fill in the cracks. Press the putty into the crack deeply. Epoxy-based putty comes in colors that will match the existing tub surround.
Step 5
Allow the putty to set and harden, generally 15 to 30 minutes depending on the brand.
Step 6
Sand the repair with fine-grit sandpaper to level out high spots. Immediately follow with a sanding using extra fine-grit sandpaper to smooth the patching material.
Step 7
Apply wax specifically made for a tub surround to conceal the putty application. Do not use furniture or floor wax because it will cause the bathtub surface to become slippery, which is hazardous.
Tip
Wear gloves, safety glasses and mask when working with epoxy-based putties. Work in a well-ventilated area. Consider choosing an epoxy repair kit from the manufacturer.
---
Sal Marco began writing professionally in 2009. He has written many online home improvement articles based on his more than 20 years of experience in the home improvement and building industries. He has worked as both part of a team and as a site supervisor. Marco has a Bachelor of Science in management science from Kean University.