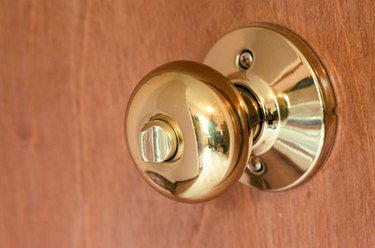 Installing door locks becomes an effortless task when using Defiant locks, which manufactures locks exclusively for The Home Depot. These locks are easily installed on pre-drilled doors with a single Phillips screwdriver. Economically priced, Defiant locks offer a secure locking system and a modern appeal. For those worried about the quality of these locks, a lifetime guarantee accompanies the purchase. This example of installation is for doors which have been already bored.
Step 1
Install the proper latch plate cover supplied with the lock.
Step 2
Adjust the latch to the back-set dimension of the door.
Step 3
Tap the latch into the latch cutout in the door with the hammer and block.
Step 4
Install the latch with a screwdriver and two screws provided.
Step 5
Install the keyed side of the knob into the large hole in the door face while inserting the stem through the latch hole.
Step 6
Align the hole in the thumb turn knob and insert the stem.
Step 7
Install the two screws supplied for the knob with a Phillips screwdriver.
Step 8
Close the door and check the lock function with the key and verify the thumb turn operates properly.