Nothing dates your kitchen like old appliances. If your white stove is bringing your style down, but a brand new stove isn't in your budget, don't despair. You can paint your stove to look like stainless steel, giving your kitchen a sleek, more modern look. Changing the color of your stove is a do-it-yourself project that can be completed in less than a day.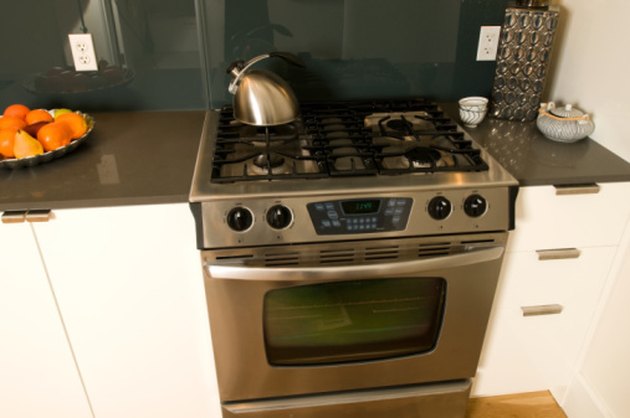 Step 1
Move the stove to a suitable location for painting. You need a well-ventilated area, especially if you use a spray product. If you are indoors, cover the room with painting drop sheets to protect it.
Step 2
Clean the stove thoroughly with a degreasing product. Removing grease and other buildup ensures the paint will adhere to the surface.
Step 3
Mask off any areas you don't want to paint with masking paper and tape and pull off removable knobs.
Step 4
Sand the area to be painted with 400-grit sandpaper, followed by 600-grit paper to degloss the existing paint. Gently abrading the surface will allow the paint to adhere.
Step 5
Vacuum and wipe the stove surface with denatured alcohol to remove any residue from the sanding.
Step 6
Put on your ventilator mask.
Step 7
Spray the area to be painted with two or three coats of self-priming appliance epoxy, following product instructions for dry time between coats. Overlap by about a third on each pass with the spray paint. Brush-on appliance paint is also available, but may not be as easy to apply evenly as a spray product.
Step 8
Allow the paint to dry for several hours or the time specified by the product instructions. Remove the masking tape and paper and replace any knobs that were removed.