Things You'll Need
Pneumatic nailer

Hot dipped galvanized or stainless steel nails

Joint sealant or batten trim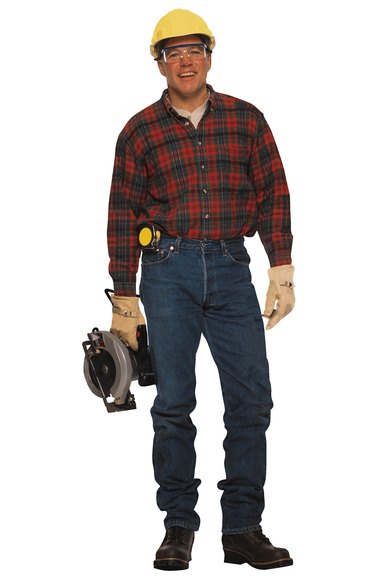 The James Hardie Co. manufactures and sells a range of exterior shingle, siding, board, panel and trim products. HardiePanel vertical siding is one of their key product lines, and, like other Hardie materials, it is constructed of cement and fiber for durability. The 4- by 8-foot panels are the smallest of the three HardiePanel sheet products available. The stucco finish is one of five surface finishes available, and there are 20 HardiePanel finish colors to choose from.
Step 1
Install HardiePanel stucco finish vertical siding over horizontal and vertical braced wood or steel wall studs spaced a maximum of 24 inches on center. Alternatively, the panels can be installed over wood sheathing covering foam insulation of 1 inch thick or less.
Step 2
Fasten the panels to the sub-structure with a pneumatic nailer and corrosion-resistant nails. Drive the nails to be just flush with the surface of the panel, but not so deep that the nails dimple the panel surface. Place all nails 3/8 inch from the HardiePanel edge and at least 2 inches from any corner.
Step 3
Ensure a bare minimum of 6 inches clearance up from the foundation soil to the HardiePanel edge. Allow at least 2 inches of clearance between the HardiePanel material and any walkway paths, sidewalks, decking, stairs or driveways that can wick or leach water and chemicals into or out of the HardiePanel product.
Step 4
Align panel seams over the bracing studs for support. Butt the HardiePanel seams together snugly, but do not jam them up against one another, as this can cause warping over time.
Step 5
Cover all panel joints with HardieTrim battens, PVC or metal joint strips or caulk them with an elastomeric joint sealant that complies with ASTM C920 Grade NS, Class 25 or higher or a latex joint sealant complying with ASTM C834. Follow the jointing product label directions to properly seal the HardiePanel joints, and allow the sealant to dry thoroughly before painting the panels.
Tip
Store your 4- by 8-foot HardiePanel stucco finish boards completely flat and in a dry area protected from rain before installation to reduce the chance of misshapen panels and shrinkage after installation.