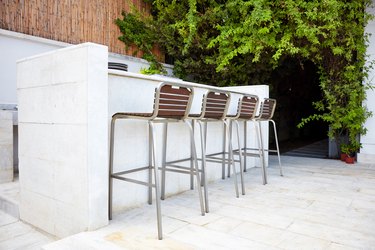 An outdoor bar can be a place to unwind after a long day of work or a place to wind up with friends and family on the weekends. Having an outdoor bar top that lasts for generations while being exposed to the elements is all about the materials you choose. Major considerations include the potential environmental impact and the upkeep necessary for you to get the most enjoyment from your outdoor oasis
Best Materials for an Outdoor Bar
The best materials for an outdoor bar are those that can withstand the elements. Bar tops that are made of hard materials — both natural, like granite or quartz, and man-made, like Corian and Silestone — will more than likely be the best choices due to their ruggedness.
One downside of using any kind of metal, such as stainless steel, as an outdoor bar top is heat. The sun can beat down on metallic materials and make them very warm, easily melting ice and warming your cocktail.
Although wood bar tops may not be the best choice for your outdoor bar top because of the maintenance, they're often the easiest to work with for the average DIY project.
Selecting Wood for an Outdoor Bar
The right wood for your outdoor bar has its considerations, including the wood's resistance to the elements, rotting, and insects. As you can imagine, using wood that is impervious to the elements and that has structural integrity is the goal, and not all woods are created equally. Choosing the right wood can keep you in a more relaxed state while enjoying your outdoor bar.
Using Hardwoods for an Outdoor Bar Top
Hardwoods like white oak, acacia, black locust, teak, and Ipe are all dense and have great resistance to the elements. Working with hardwoods can be more difficult than working with softer woods, but they can stand the test of time due to their high density. Some of these hardwoods, like teak, can get very expensive, while other domestic hardwoods are less costly and provide the same longevity. Not all hardwoods grow quickly, so using a fast-growing hardwood over another may have less of an environmental impact.
Using a Softer Wood for Outdoor Bar Tops
Softer woods may be easier to work with and they may be more readily available than some hardwoods, but they do have their drawbacks. Softer woods, like cedar, cypress, and redwood, all have great resistance to rot and insects but lack structural integrity. Some softer woods, like Douglas fir, have great structural integrity but lack in the decay-resistance department. Douglas fir also does not have strong natural defenses against insects. Although all of these softer woods are easy to work with and clean up beautifully, they will dent, scratch, and crack easily, and they will not last as long as other options for an outdoor bar top.
Building an Environmentally Friendly Outdoor Bar
Using reclaimed wood for an outdoor bar can be beautiful as well as environmentally friendly. Before running down to the local lumber yard, look around your town. Is there a pub that is renovating its bar? Or maybe a local builder has just demolished an old wooden barn that just needs to be cleaned up. Either way, using reclaimed wood is both beautifully rustic as well as environmentally friendly. So roll up your sleeves, because the feeling you can get from knowing that no trees were harmed while using reclaimed wood for an outdoor bar provides great peace of mind.
Maintaining Outdoor Bar Tops
No matter what kind of outdoor bar top you have, there will always be the chore of maintenance. This might be where the less organic outdoor bars prevail. Keeping it clean is necessary for any material, so using simple soap and water is the way to start your outdoor spring project. The less organic outdoor bar tops may need a little elbow grease using soap, water, and a scrub brush. Some wooden outdoor bar tops may need to be hit with sandpaper and refinished after being subjected to the winter elements.