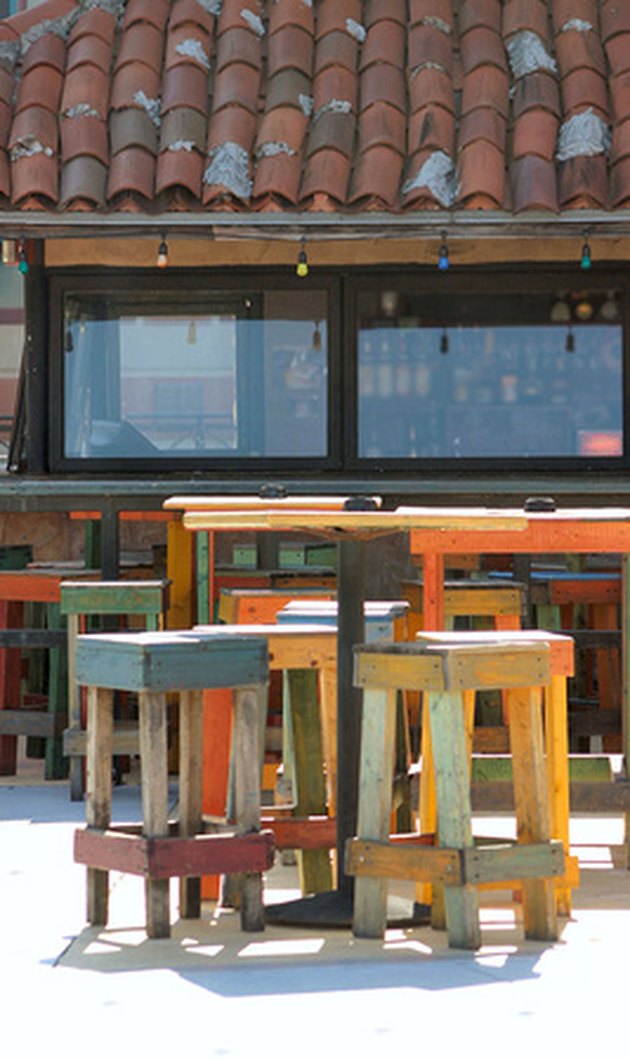 Finding the right bar top for an outdoor bar can be challenging. Personal taste, maintenance and cost are three factors that must be considered to assure the right investment is made. The best materials for outdoor use are those that are naturally designed to withstand the wear and tear of weather elements.
Granite
Granite is a natural stone that can be found in a variety of patterns and colors to fit a wide range of design styles. Granite is one of the strongest natural stone materials available. It is less prone to cracking and chipping than marble. Some color options are greens, pale pinks, plums, reds and exotic blues. The patterns are typically pebbled or flecked in appearance, depending on the crystal, quartz and mineral mixture. If possible, keep the granite bar under a tree or another shaded area. Contact with direct sunlight over time can break down the polyester epoxy resin the granite is coated with, giving the material a slightly yellow color and an antique look, which you may or may not like.
Aluminum
Aluminum is a rust-free and incredibly strong material for outdoor use as a bar top. Aluminum quickly creates a small and slim top layer of oxide, protecting the surface from corrosion and disintegration. Aluminum is also lightweight, making it easy to rearrange or move into storage over the winter months.
Wood
Wood is a classic material used on bar tops. Teak and cedar wood are naturally resistant to weather damage and insects. Wood is solid and heavy and creates a rustic natural ambiance that complements outdoor decor. Wood will naturally change in appearance over time; the color will change slightly and any natural imperfections will come to the surface. Help prolong the lifespan of a wood bar top by locating it under some shade and applying outdoor resistant wood stain.
Stainless Steel
Stainless steel is a durable material used on many outdoor bars and other surfaces. The material coordinates with other outdoor furniture and is easy to clean. It does not absorb oxygen, so it will not rust. It can show wear over time, but as long as you clean it regularly and keep it covered between uses, it will remain in good condition for a long time. Stainless steel might become hot if exposed to extreme sunlight for several hours, but you can avoid that with shade or bar covers.
---
Chris Newton has worked as a professional writer since 2001. He spent two years writing software specifications then spent three years as a technical writer for Microsoft before turning to copywriting for software and e-commerce companies. He holds a Bachelor of Arts in English and creative writing from the University of Colorado.