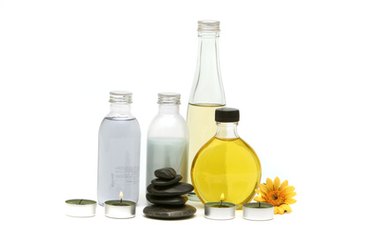 Each essential oil has its own set of benefits that can help you, your home and your family. Essential oils can improve your health and are used as an alternative to harsh cleaning chemicals. Many essential oils will remove offensive musty odors and leave your home smelling clean and fresh.
Tea Tree Oil
Made from the leaves of the native Australia tee Melaleuca alternifolia, tea tree oil has antifungal and antiseptic properties that work to eliminate mold and mildew as well as musty odors. The oil also has many health benefits, including use as a treatment for acne. Mix 2 tbsp. of tea tree oil with 2 cups of water in a spray bottle. Spray the mixture on the areas with the musty odor and allow to air dry. Repeat the process as often as need to remove musty odors and freshen your home.
Grapefruit
The essential oil made from grapefruit can reduce cellulite deposits while improving your mental alertness. Grapefruit essential oil will also remove smoke and stale odor as well as musty, mildew smells. Pour 2 cups of cool water into a clean spray bottle. Add 20 drops of the grapefruit essential oil, and gently swirl the spray bottle in a circular motion to mix the water with the oil. Mist the offensive odor with the mixture, and allow to air dry. Like tea tree oil, grapefruit essential oil will successfully remove mold and mildew.
Lemon
Lemon essential oil is created by pressing the oil out of the rinds of the fruit. The scent of lemons is used in many cleaning products for its fresh and clean aroma. The oil is used as an astringent and disinfectant. It can also remove musty odors from the air as well as surfaces. Mix 2 tbsp. of lemon essential oil with 2 cups of water. Pour the mixture into a clean spray bottle. Mist the air or smelly surfaces, and allow to dry.
Sage
Sage is used as a calming aromatherapy and improves circulation. Sage will remove many unpleasant odors from your home, the air and your body. It will also relieve premenstrual symptoms such as cramps. To use sage essential oil to remove musty odors, fill a spray bottle with 2 cups of water. Add 10 to 15 drops of the sage essential oil and mix well. Liberally mist the area with the mixture, and allow to air dry.
Orange
The essential oils produced from oranges, or orange flowers, will relieve stress and anxiety while providing your home with a calm and relaxed presence. The oil will also remove musty odors from your home. Mix 3 cups of water with 20 drops of orange essential oil in a spray bottle. Apply the mixture liberally to the musty smelling odor. Allow the mixture to air dry on the item. For a continuous room deodorizer, saturate cotton balls in pure orange essential oil, and place the cotton balls in bowls or vases around your home.