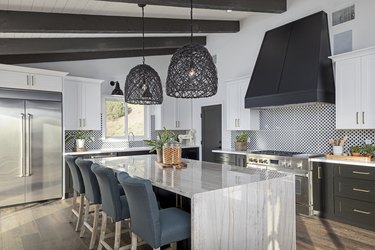 When it comes to kitchen remodeling, just about any size, shape or color of countertop is available if you're willing to pay for customization. Thankfully, standard sizes are available off the shelf, saving tons of money compared to a custom countertop of similar material. Although several lengths are readily available, the width of a kitchen counter is fairly standard, with generally less than an inch of variation from one countertop model to the next.
Typical Countertop Dimensions
Unlike kitchen base and wall cabinets, there are no standards for complete countertop dimensions. The most common width of a kitchen counter, though, is 25 inches, with width referring to how deep the counter is from front to back. This standard kitchen slab width is so common that many suppliers sell countertops by the linear foot, which means per foot of length on a 25-inch wide countertop.
For some brands and models, that 25 inches is really 25 1/2 inches or a fraction of an inch wider than that. Any of these countertops are designed to fit over a standard 24-inch-deep base cabinet. Read the fine print or product labeling to find out the exact size if a little variation matters to you. You could also bring a tape measure when you visit the store.
Countertop Length and Thickness
Big-box home improvement stores also sell pre-cut countertops in a few standard lengths, such as 4, 6, 8 or 10 feet. They also sell pieces with one side angled for handling corners, but still in these same lengths. Some stores will also sell countertops in any length you need to fit a specific space. This requires ordering the countertop and picking it up at a later date. Be sure to mention any angles needed for countertops that span two adjacent walls. Ask about pricing for custom cuts, as well, as some places may charge for the work.
The typical depth of a countertop varies, depending upon the material. For most materials other than stone, countertops range from 1 inch to 1 1/2 inches deep.
Real stone, such as quartz or marble, tends to be heavier than wood or laminate over wood-based materials, so the countertops are sold in 3/4-inch and 1 1/4-inch thicknesses. A 3/4-inch-thick stone countertop weighs much less than its thicker counterpart, but may be more prone to cracks or breaking. The thicker stone countertop is best for areas of heavy use.
Kitchen Island Widths
With kitchen islands countertops, size varies greatly based on the island's purpose and the amount of space available in the kitchen. A typical kitchen island for a spacious area is usually at least 4 feet deep, sometimes slightly wider. This accommodates two base cabinets beneath the countertop. The narrowest islands are about 2 feet wide.
Another common option features a base cabinet underneath and bar seating on one side. For these, expect at least 24 inches of counter width for the cabinet portion of the island, plus another 18 inches for the bartop side, totaling 42 inches. In many cases, it's easiest to buy the island complete with a countertop.