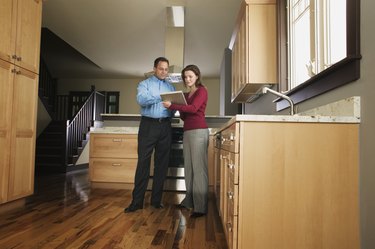 If you are suspicious of radon in your area you can have a company to come to your home and test for it or you can purchase a do-it-yourself tester. It is important these tests meet EPA requirements. Along with sealing cracks in the foundation and walls, ventilation is key to passing a radon test. There are multiple methods to ventilate which a radon inspector can assist you with.
Step 1
Open windows. This will increase airflow through the house and assist in the ventilating process.
Step 2
Install vents in the basement or crawl space. The company working with you will decide the best option. For example, the options could vary depend on whether you have a dirt or cement floor basement.
Step 3
Increase air movement. Turn on stand alone or ceiling fans to help move air throughout the house. Circulation is very important.
Step 4
Vent air outside from the floor. Sump holes (holes in your sump pump) or floor drains can be created to create another exit, or vent, for the radon.
Step 5
Retest your home. Recheck your house with the do-it-yourself tester you purchased or have the company come back periodically. Make sure the ventilation system that has been set up shows a decrease in radon.