A vintage kitchen sink can be the design focal point of your kitchen. It's an iconic fixture from American homes of the 1940s and 1950s. Cast iron sinks retain heat and are extremely durable. They also are very heavy, making installation a bit of a challenge to today's homeowner. Ideally, you should have 36 inches of counter space on one side of the sink, and 18 inches on the other.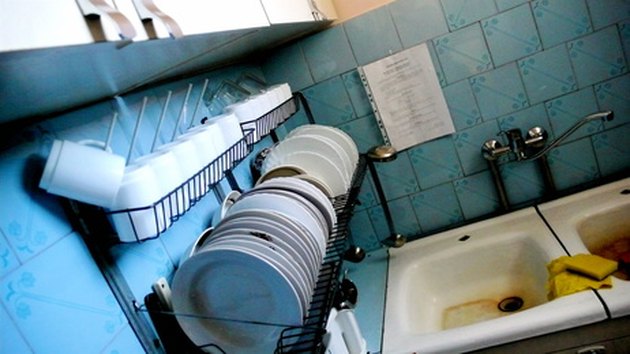 Step 1
Measure the sink area to ensure your vintage sink will fit into the space, and that the backsplash will blend in with the rest of the wall.
Step 2
Cut away the portion of the cabinet you need to be able to set the sink in place, if your sink is a farmhouse version with a solid front.
Step 3
Reinforce the surrounding cabinets by measuring and cutting 3/4-inch plywood to fit on the sides, front and back. Nail into place.
Step 4
Measure the sink's depth and nail 3/4-inch plywood strips on the inside of the cabinets to brace the sink. Place bracing strips on the front, back and sides.
Step 5
Dry-fit the sink into place to ensure it fits, and is laying on the braces. Draw a line on the counter to show where the sink is located. Also ensure plumbing hookups are correctly lined up.
Step 6
Remove the sink. Add a bead of silicone sealer to all areas where the sink will lay on the counter.
Step 7
Place the sink on top of the silicone and press down lightly to bond the sink to the sealer.
Step 8
Add fixtures, and hook up the water and outlet supply lines.