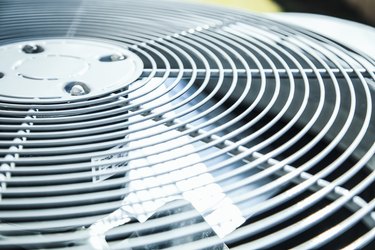 If you're not sure what kind of HVAC systems are installed in your home and what happens when you use your thermostat to turn on the heat or air conditioning, you're not alone. A lot of people are confused about how forced-air systems and central air work and talk about forced air and central air as if they're two opposing systems, but this isn't exactly accurate. Central air is one kind of forced-air system that may or may not be used to cool your home. Deciding between a mini-split and a central air system is a decision homeowners may need to make.
Forced Air vs. Central Air
Forced air versus central air isn't a very useful comparison. They're not two opposing kinds of systems. A forced-air system pushes air through ducts and out through vents into the rooms of your home. Both furnaces and heat pumps are kinds of forced-air systems, and central air technically is too.
When you're thinking about the options around heating and cooling your home, a more accurate comparison is forced air versus a boiler system. And if you're considering cooling options, some apt comparisons are mini split versus central air (or ductless versus central air) and window air conditioners versus central air. But you don't have to choose between forced air and central air.
When people refer to forced air, they're often talking about a home's heating system. Exactly how a forced-air system functions depends on what kind of heating element the home uses. A furnace uses gas or electricity to heat air, and a blower fan then pushes that hot air through the home's ducts and out through the vents.
A heat pump pulls heat energy from outdoor air and transfers that heat to air inside the pump, which is then blown through the ducts. (One distinction between a heat pump and furnace is that a heat pump can also generate cool air, eliminating the need to use a separate air conditioning system.) By comparison, a boiler system heats water that's forced through a system of pipes to heat radiators.
A central air conditioner includes two major components: An outdoor unit that contains a fan, condenser coils, and a compressor and an indoor unit that houses evaporator coils. When you tell your thermostat to turn on the central AC, room air is pulled into the indoor unit where heat is drawn out of the air as it passes through the evaporator coils. Cooled air is then forced through the ducts and into the rooms of the home, while the heat absorbed by the refrigerant running through the evaporator coils is transferred to the outdoor unit and released into the outdoor air.
Alternatives to Central Air
As opposed to central air, few types of cooling systems don't use forced air. Ductless mini-split air conditioners also use two components like central air systems. Indoor units are installed near the ceiling in one or more rooms of the home and pull in air that's passed over evaporator coils. Cool air is blown back into the home while heat is transferred out through an outdoor unit.
Even when a home does have ductwork, some homeowners prefer a mini-split versus central air. Like window units, using a system that's ductless allows you to cool targeted zones of a home instead of cooling the entire building whenever you turn on the AC. Other benefits of using a ductless system versus central air include energy efficiency and ease of maintenance.