Ductless air conditioners, or mini-splits, provide a number of cooling solutions for homeowners. Perhaps their biggest selling point is that they don't need ductwork. This means you can use the system to spot-cool one room or area, such as a new addition, or to cool the whole house, without the expense of installing ducts. A mini-split system typically consists of a single outdoor compressor-condenser unit and one or more indoor evaporator-air handler units, each of which serves a specific room or zone.
Ductless air conditioners generally are more energy efficient than conventional central air-conditioning. Some models feature inverter-driven compressors that provide a steady temperature while using a minimal amount of energy to keep the temperature constant. There are also models that can provide heating as well as cooling. As an added efficiency feature, mini-splits like the Mitsubishi MUZ-FH contain sensors that scan the room to direct cooling or heating where it is needed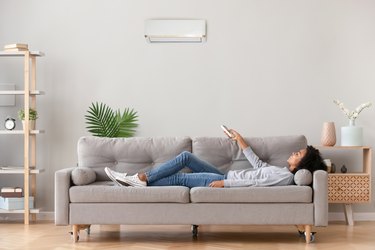 Choosing the Ductless Air Conditioner That Is Right for You
When shopping for a system, you will see some brand names you may recognize, such as Mitsubishi Electric, LG, Samsung and Panasonic. But there may be some names that are unfamiliar, such as Daikin, Gree, Fujitsu and others. Although ductless mini-split units have been around for some time, they are not as common as traditional air-conditioning. So it is important to choose an installer who is knowledgeable about the product you are considering. Because all mini-split companies offer a range of products, it's best to choose the specific model that suits your needs, rather than defaulting to a company name you recognize. Here are some things to consider when making a purchase.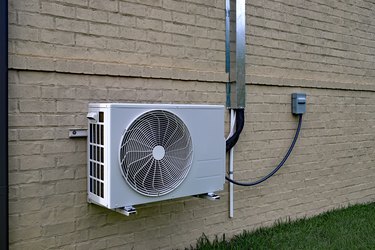 Mini-Split Zone Cooling
Depending on the system, ductless units can cool one zone or up to eight zones, such as with the Fujitsu General Halcyon mini-split system. Because each indoor air handler is directly attached to the outdoor unit through a compact bundle of refrigeration and electrical cables, each zone can be set at its own temperature.
Cooling Area
Single-zone units start at about 9,000 Btu (British thermal units) output to cool a space of about 300 to 500 square feet. Multi-zone mini-splits can go up to 60,000 Btu for houses in the 3,000-square-foot range. The LG Multi F series is a popular line that includes models with 60,000 Btu of cooling power and the option of up to five indoor units. Keep in mind that matching your home's size to a chart is not the best way to choose a system. The local climate and the energy attributes of the house itself, including insulation levels and air infiltration rates, are important when choosing a system. A qualified HVAC contractor can help you match a unit to your home.
Energy Efficiency of Mini-Splits
Mini-spits are rated for energy efficiency with a system called SEER, or seasonal energy efficiency ratio, which is a measure of cooling efficiency. The higher the SEER rating the more efficient the system. Today's least efficient systems start at about 13 SEER, while the most efficient models are rated at 30 SEER or higher. The Gree Sapphire has a SEER of 38. In general, smaller mini-splits tend to be more efficient than larger models. The Gree Sapphire, for example, is a single-zone system.
Some ductless units contain heat pumps so that they can provide heating as well as cooling. The heating efficiency of these type products is measured by the heating seasonal performance factor, or HSPF. In the past, heat pumps were not suitable for very cold climates, but many of today's models can operate in below-zero Fahrenheit temperatures. The LG Multi V S can operate in temperatures down to -13 degrees Fahrenheit.
When comparing energy efficiency, start with products that meet Energy Star requirements. Energy Star is a program of the U.S. Department of Energy that promotes energy-efficient products. Air conditioners that qualify for the Energy Star program are more efficient than standard models. To qualify for the program, a mini-split system must have a SEER of 15 or above, and a HSPF of 8.5 or above.
Cost Considerations
The cost of a mini-split will depend on the size of the unit and its features. But, generally, a ductless system for an entire house will cost about 30 percent more than traditional whole-house air-conditioning if ducts are already in place. If new ducts have to be installed, the ductless system may be less expensive.
Other Features to Consider
Controls. Most systems are operated by a hand-held remote, but some systems offer Wi-Fi operation so that you can control the unit from a smartphone. Some systems include programmable thermostats.
Quick cool. This feature keeps the system running on high until the desired temperature is reached.
Dehumidifying mode. All mini-split units dehumidify the indoor air as they cool; a dehumidifying mode, or "dry mode," dehumidifies without cooling.
Advanced filtration. All indoor units have filters, but some systems contain filters that do a better job of removing pollutants than standard filters.
Ductless mini-split air conditioners provide a viable alternative to traditional air-conditioning systems, especially in homes that do not have ducts in place.