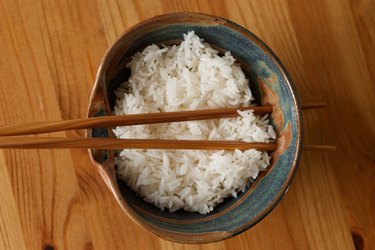 Steamer rice cookers take the guesswork out of traditional methods while providing a healthy way to prepare rice and vegetables. Unlike boiling or frying, the cooking technique locks in the food's nutrients. Black and Decker steamer rice cookers are easy to use and most components are dishwasher-safe.
Step 1
Pour cold water into the water reservoir. Typically, the reservoirs in the Black and Decker steamer rice cookers are along the outside edge of the appliance. The exact amount of water will vary based on the kind and amount of food being cooked, so check the owner's manual to determine quantities.
Step 2
Add food to the cooking container. If preparing rice, use the rice steaming bowl. If preparing vegetables, use the steaming baskets. Place the drip tray above the reservoir. The drip tray catches any juices released from the steaming foods. Some models include a "scent screen" in the drip tray that allows for herb infusion.
Step 3
Put the cover over the steaming bowls or baskets. Black and Decker steam bowl covers will have tabs that match up to the bowl for a tight fit. Match up the tabs and press the lid on firmly until it snaps into place. Check that the lid is tight before placing the bowl in the reservoir over the drip tray.
Step 4
Set the timer on the rice cooker. Black and Decker steamer rice cookers can be set from 1 to 75 minutes. The exact time necessary will vary depending on the kind and amount food, and personal preference.
Step 5
Remove the food carefully after the timer goes off to avoid steam burns.
Tip
Read the instruction manual. Exact directions can vary slightly between different steamer models.
---
Helen Jain has been writing online articles since December 2009 for various websites. She has studied English and psychology and hopes to get a Ph.D. in English in the future.