Things You'll Need
Brass stem screw

Stem washers

Adjustable wrenches

Pliers

Deep-set socket

Ratchet wrench

Wire brush

Vinegar

Heat-proof grease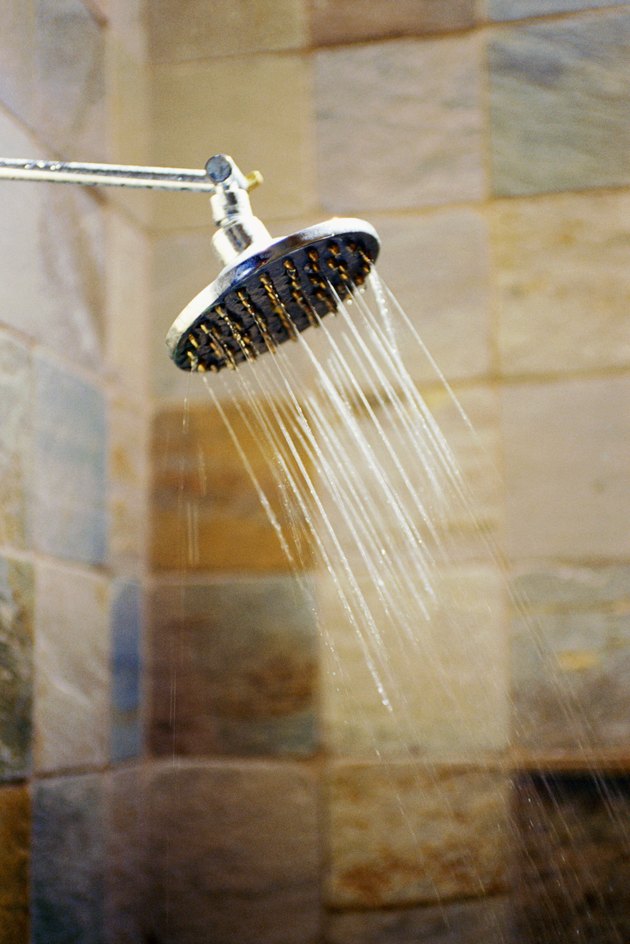 If the pressure in your showerhead has recently decreased, chances are you need to clean your shower diverter valve. The diverter valve switches the water flow from your showerhead to your tub spout. Hard water leaves residue and buildup on plumbing lines. Cleaning a diverter valve will increase the water pressure in your showerhead. Typically, three-handled faucets contain a diverter valve and two-handled faucets contain a gate diverter.
Step 1
Shut off the water supply to your shower.
Step 2
Remove the shower diverter handle -- the center handle -- by removing the handle cap and unscrewing the handle screw with your screwdriver.
Step 3
Unscrew the escutcheon -- the cover plate located behind the handle -- by unscrewing it by hand. The shower diverter valve is under the cover plate.
Step 4
Remove the bonnet nut -- the nut located on your shower enclosure -- on the diverter by unscrewing with your adjustable wrench. If you cannot reach the bonnet nut with your adjustable wrench, unscrew it with a deep-set socket and ratchet wrench.
Step 5
Unscrew the stem assembly from your bonnet nut with two adjustable wrenches by placing a wrench on both nuts and turning them in opposite directions.
Step 6
Remove the brass stem screw located on the bottom of the diverter valve with your screwdriver. Replace the old stem washer with a new one and replace the stem screw if you notice signs of wear.
Step 7
Unscrew the stem from the diverter valve's retaining nut with your hand and clean sediment buildup from the diverter valve parts by dipping them in vinegar to loosen the buildup, then brushing with a wire brush. Clean all parts thoroughly.
Step 8
Coat all parts of the diverter valve with heat-proof grease and reassemble the diverter valve.
Step 9
Reinstall the diverter valve, diverter handle and escutcheon plate.
---
Stephanie Nolan has been a freelance writer since 2005. Her articles appear on various websites, where she specializes in topics about home improvement, parenting and interior design. Nolan holds an Associate of Applied Science degree in business management from the University of Phoenix.