Things You'll Need
Tile adhesive removal

Rubber gloves

Scrubbing pads

Safety glasses

Stiff bristle brush

Heat gun

Old towels

Work rags

Dish soap

Bucket

Drywall compound

Putty knife

Sanding sponge

Setting-type drywall compound

Paint stirrer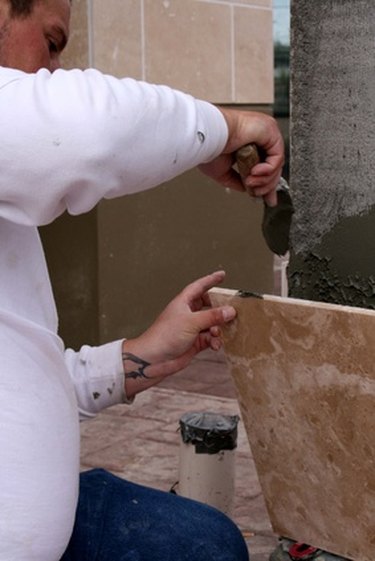 Removing tile adhesive from drywall is not an impossible process. The use of the right tools and materials, combined with some elbow grease, will remove most tile adhesives from drywall. However, it is unlikely that removing the adhesive will leave the drywall looking like new. Because of this, it is important to have supplies on hand that will help you repair the drywall once the tile adhesive is removed from the surface of the wall.
Removing Adhesive
Step 1
Heat the surface of the adhesive with the heat gun. Work in 2 foot, square sections to prevent the adhesive from hardening as you work. Heat the area for about 10 minutes.
Step 2
Scrape the surface of the adhesive with a stiff-bristle brush. If any adhesive gets stuck to the brush, remove it by hand and continue until no more adhesive remains on the wall.
Step 3
Wipe some tile adhesive remover over the surface of the wall. Allow it to sit for about 10 minutes. Scrub the adhesive away with the scrubbing pads.
Step 4
Mix a solution of warm water with 5 drops of dish soap mixed in. Wipe the surface of the wall down with an old rag dipped into the soapy solution. Rinse the wall with clear water. Allow the wall to dry for 24 hours.
Step 5
Sand the entire surface of the wall with a sanding sponge.
Repairing the Drywall
Step 1
Note any scratches or dents in the drywall surface. Sand these areas once more with the sanding sponge. Mix the drywall compound thoroughly until no lumps remain.
Step 2
Apply drywall compound to the dents and scratches that are smaller than marble sized. Fill the holes a little fuller than the actual size of the hole. Smooth the putty outside of the holes about ½ inch on each side. Allow to dry for 24 hours. Continue to fill the remainder of the scratches and holes as you wait.
Step 3
Fill holes larger than the size of a marble with the setting-type drywall compound. Fill the holes in the same manner as the smaller holes. Allow to dry for 24 hours.
Step 4
Sand over the patched holes with the sanding sponge until the surface of the wall is completely smooth, or until you cannot tell that the repairs were made.
---
Brenda Priddy has more than 10 years of crafting and design experience, as well as more than six years of professional writing experience. Her work appears in online publications such as Donna Rae at Home, Five Minutes for Going Green and Daily Mayo. Priddy also writes for Archstone Business Solutions and holds an Associate of Arts in English from McLennan Community College.