Hot tubs are a luxurious means of relaxation and rejuvenation, yet even this source of sublime pleasure has to be maintained. Sometimes your hot tub parts will need tending to. Before you call out a Balboa service technician, though, try to do some troubleshooting with your Balboa hot tub parts. Much of what can go wrong with a hot tub is in the pump. Try to identify the problem you are experiencing before attempting to correct a misbehaving part.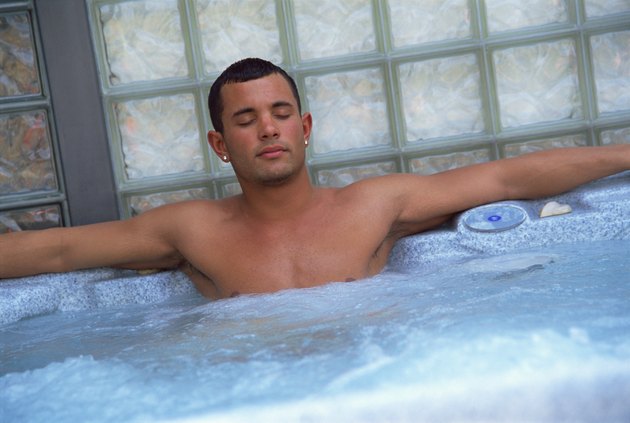 credit:
Jupiterimages/liquidlibrary/Getty Images
Step 1
Connect the power plug to an electrical outlet. Make sure there is electricity running to the outlet.
Step 2
Clear out the air tubes running from the pump to the hot tub. Any debris lodged within the tube should be removed with a pipe cleaner.
Step 3
Make sure the hose is running smoothly and isn't kinked or trapped under something.
Step 4
Turn the pump on by pressing the power switch. If pressing the power switch on the pump doesn't work, you will need to order a new Balboa power switch.
Low Pressure, Jet or Pump Function
Step 1
Open the jets in the hot tub. Closed jets will prevent the pump from being able to pump the water.
Step 2
Check that the height of the inlet pipe isn't higher than the water line. The water line is where the water comes from and the inlet pipe connects the water line to the pump. The inlet pipe should never be above the height of the water line.
Step 3
Clean the pump of any dirt that may be blocking the passage of water.
Step 4
Fill the hot tub with more water than you were previously using. A low water level will prevent the pump from working.
Step 5
Check that the correct voltage is reaching the pump. A pump will not behave correctly if the voltage reaching it is too low.
Step 1
Ensure the correct voltage is being supplied to the pump.
Step 2
Remove any blockages from the pump that may be causing jamming.
Step 3
Replace the pump's bearings. You will need to order the exact bearings for your model by contacting your Balboa retailer.